E-LEARNING PADA SMKS 4 PUTRA NUSANTARA BERBASIS LEARNING MANAGEMENT SYSTEM (LMS) MOODLE
Herita Apriati

Universitas Dehasen Bengkulu

indra kanedi

Ricky Zulfiandry
Abstract
Abstract Support for internet network infrastructure at the Putra Nusantara S-4 Vocational High School triggers the development of service facilities for students. One alternative is the development of an e-learning system in an effort to improve online learning through the delivery of learning materials, discussions, and other lecture activities conducted through electronic media. The aim of this research is to create e-learning at the Putra Nusantara S-4 Vocational High School using the Moodle Learning Management System (LMS). The research method used in this study is the waterfall method with the stages of analyzing the old system, analyzing the new system, designing the system, implementing the system and testing the system. The results of the e-learning made are in the form of a Moodle-based learning application. E-learning displays subject matter in various application file formats in accordance with existing subjects in the competence of food crop agribusiness expertise, online assignments by teachers to students, online discussions through in-app forums and exams (quizzes). carried out by teachers for their students (students) in an effort to improve the professionalism of teacher competencies and student competencies in agriculture.
Keywords: E-learning, Moodle, PHP,
Downloads
Download data is not yet available.
References
DAFTAR PUSTAKA

[1] Akbar. 2018. Instrumen Perangkat Pembelajaran. PT Remaja Rosdakarya Offset: Bandung.
[2] Endang. Komara, (2019). Belajar dan Pembelajaan Interaktif: Bandung: PT Refika Aditama.
[3] Hidayati, L. 2007. Studi Tentang Kreativitas Guru Bidang Studi Biologi Dalam Optimalisasi Pemanfaatan Media Pembelajaran di SMA Negeri Kabupaten Lamongan. Skripsi, 1-152.
[4] Rice IV, William H. 2018. Moodle. E-Learning Course Development : A Complete Guide to successfull learning using Mooclel.,Birrningham, UK : Pack Publishing.
[5] Supno dan Putratama, Pemrograman Web dengan Menggunakan PHP dan Framework.
[6] Sibero, Alexander F.K. 2011, Kitab Suci Web Programming, Yogyakarta: Media Kom
[7] Sutarman. 2012. Buku Pengantar Teknologi Informasi. Jakarta: Bumi Aksara.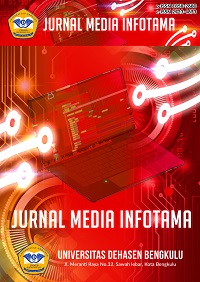 How to Cite
Apriati, H., kanedi, indra, & Zulfiandry, R. (2022). E-LEARNING PADA SMKS 4 PUTRA NUSANTARA BERBASIS LEARNING MANAGEMENT SYSTEM (LMS) MOODLE. JURNAL MEDIA INFOTAMA, 18(2), 237-246. https://doi.org/10.37676/jmi.v18i2.2714
Copyright (c) 2022 Herita Apriati; indra kanedi, Ricky Zulfiandry
This work is licensed under a Creative Commons Attribution-ShareAlike 4.0 International License.
An author who publishes in Jurnal Media Infotama agrees to the following terms:The author holds the copyright and grants the journal the right of first publication of the work simultaneously licensed under the Creative Commons Attribution-Share Alike 4.0 License which allows others to share the work with acknowledgment of the work's authorship and initial publication in this journal.Submission of a manuscript implies that the submitted work has not been previously published (except as part of a thesis or report, or abstract); that it is not being considered for publication elsewhere; that its publication has been approved by all co-authors. If and when a manuscript is accepted for publication, the author retains the copyright and retains the publishing rights without limitation.
For new inventions, authors are advised to administer the patent before publication. The license type is CC-BY-SA 4.0.
MEDIA INFORMATION REVIEW: Journal of the Faculty of Computer Science is licensed under a Creative Commons Attribution-ShareAlike 4.0 International License.You are free to:Share
— copy and redistribute material in any medium or formatAdapt
— remix, modify and develop materialfor any purpose, even commercial.
The licensor cannot revoke this freedom as long as you follow the license terms