RANCANG BANGUN APLIKASI MENGENAL JENIS KECERDASAN DAN BAKAT SISWA BERBASIS ANDROID
Tina Puspita

Universitas Dehasen Bengkulu

siswanto siswanto

Ricky Zulfiandry
Abstract
ABSTRACT The State 17 Junior High School in Bengkulu City is one of the junior high schools in Bengkulu Province, the same as junior high schools in general whose education is taken within 3 years of study, starting from grades VII and IX. This school is located at Wr. Supratman Street, Pematang Governor, Muara Bangkahulu District. The subject of this research is the design of applications to recognize the intelligence and talent of Android-based students on Android devices. While the research subjects were students of class 1X State Junior High School 17 Bengkulu City. State Junior High School 17 Bengkulu City for class 1X consists of 2 classes, with a total of 64 students. The large number of students taken for testing refers to a statement that explains that "at least 20% for the population is considered small". However, the 20% amount is still considered insufficient. So that the taking of the number of students follows the rules set by students, which is between 30-500 students. So that taken half of the total number of 32 students. This application to identify the type of intelligence and talent of students based on Android is an application built using Android Studio with the Java programming language, PHP and MySQL database. This application has 2 different interfaces, for the admin side can access web-based applications on a predetermined web link, while for the user side can access android-based applications that can be installed on each android smartphone. Based on testing using Usability Testing, the results obtained are the level of ease of users to complete basic tasks when the user first sees or deals with the existing system, the level of efficiency of the application according to the purpose of the application and the features contained in the application make it easier for users to run the application, the application is easy to remember, with a colorful menu display and the features in the application make it easier for users to manage or run applications, the security level in the application is quite adequate when installing the application there are some devices that experience errors because they do not support the minimum operating system used, and user satisfaction with the application, satisfied with the information provided and the security provided by the application
Keywords: Applications, Types of Intelligence and Talent, Students, Android
Downloads
Download data is not yet available.
References
DAFTAR PUSTAKA

[1] Firman, A., 2016. Sistem Informasi Perpustakaan Online Berbasis Web. E-Journal Teknik Elektro dan Komputer, Volume Vol. 5 No.2 ISSN 2301-8402.
[2] Hasyim, Nurlaila. Dkk. 2017. Rancang Bangun sistem informasi koperasi berbasis web pada koperasi warga Baru MTS N 17 Jakarta. Jurnal Sistem Informasi Vol.7 No.02 2017.ISSN 1979-0767
[3] Herlawati, Cahya Nugraha. 2016. Sistem Pakar tes minat dan bakat jurusasan kuliah berbasis Android (Studi kasus: diSma islam teratai putih Global). Jurnal Teknik Koomputer AMIK BSI Vol.11 No.01 Februari 2016
[4] Hidayatullah, P. & Kawistara, J. K., 2017. Pemrograman Web Edisi Revisi. Bandung: Informatika .
[5] Kasaedja, Bramwell A, dkk. 2019.Rancang Bangun web service perpustakaan Universitas Sam Ratulangi. E-Jurnal Teknik Elektrodan komputer. ISSN : 2301-8402
[6] Liantoni, F., dan Nugroho, H. 2016. "Klasifikasi Daun Herbal Menggunakan Metode Naive Bayes Classifier dan K-Nearest Neighbor". Jurnal Ilmiah SismanteC 5. 1, 9-16.
[7] Mulia, A. (2017). Upaya Meningkatkan Kecerdasan Kinestetik Anak Usia Dini Melalui Metode Bermain Gerak dan Lagu di RA An Nida Bandar Setia Kecamatan Percut Sei Tuan .Skrpsi--UIN Sumatera Utara Medan.
[8] Pane, S. F., Achmad, R. & Nasution, I. K., 2020. Membangun Aplikasi Peminjaman Ruangan Menggunakan Oracle Apex Online. 1st ed. Bandung: Kreatif Industri Nusantara.
[9] Pane, S. F., Zamzam, M. & Fadillah, M. D., 2020. Membangun Aplikasi Peminjaman Jurnal Menggunakan Aplikasi Oracle Apex Online. 1st ed. Bandung: Kreatif Industri Nusantara.
[10] Rosa, S., 2016. Rekayasa Perangkat Lunak Terstuktur dan Berorientasi Objek. Bandung: Informatika.
[11] Sinambela, D. T., 2016. plikasi Pengaduan Kemacetan Lalu Lintas Di Kota Bandung Berbasis Mobile Dengan GPS. E-Proceeding Of Applied Science , Volume Vol. 2 No. 1 ISSN 2442-5826.
[12] Sulihati, A., 2016. Aplikasi Akademik Online Berbasis Mobile Android Pada Universitas Tama Jagakarsa. Jurnal Sains dan Teknologi Utama, Volume Vol.XI No.1 ISSN :1978-001X.
[13] Yaumi, M. 2017. Pembelajaran Berbasis Multiple Intelligences. Dian Rakyat. Jakarta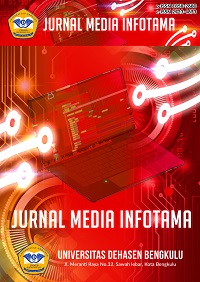 How to Cite
Puspita, T., siswanto, siswanto, & Zulfiandry, R. (2022). RANCANG BANGUN APLIKASI MENGENAL JENIS KECERDASAN DAN BAKAT SISWA BERBASIS ANDROID. JURNAL MEDIA INFOTAMA, 18(2), 261-272. https://doi.org/10.37676/jmi.v18i2.2718
Copyright (c) 2022 Tina Puspita; siswanto siswanto, Ricky Zulfiandry
This work is licensed under a Creative Commons Attribution-ShareAlike 4.0 International License.
An author who publishes in Jurnal Media Infotama agrees to the following terms:The author holds the copyright and grants the journal the right of first publication of the work simultaneously licensed under the Creative Commons Attribution-Share Alike 4.0 License which allows others to share the work with acknowledgment of the work's authorship and initial publication in this journal.Submission of a manuscript implies that the submitted work has not been previously published (except as part of a thesis or report, or abstract); that it is not being considered for publication elsewhere; that its publication has been approved by all co-authors. If and when a manuscript is accepted for publication, the author retains the copyright and retains the publishing rights without limitation.
For new inventions, authors are advised to administer the patent before publication. The license type is CC-BY-SA 4.0.
MEDIA INFORMATION REVIEW: Journal of the Faculty of Computer Science is licensed under a Creative Commons Attribution-ShareAlike 4.0 International License.You are free to:Share
— copy and redistribute material in any medium or formatAdapt
— remix, modify and develop materialfor any purpose, even commercial.
The licensor cannot revoke this freedom as long as you follow the license terms