KRISIS KOMUNIKASI PADA MASA PANDEMI COVID-19 (Studi Kasus Pemberitaan Penyebaran Covid-19 melalui Udara)
Fera Indasari

Universitas Dehasen Bengkulu

Ida Anggriani

Universitas Dehasen Bengkulu
Abstract
This study discusses the communication crisis in the mass pandemic Covid-19, a case study in the coverage of the spread of Covid-19 by air. This research uses the theory of SSCT (Situational crisis communication theory) by Choombs, 2007. The method used in this research is descriptive qualitative. the crisis that occurred at WHO could result in the loss of public trust in WHO as a reliable source of world health information, WHO was proven wrong. Based on an understanding of crisis communication, the crisis of the difference in information conveyed by WHO regarding the spread of the corona virus through the air is an information crisis that occurs due to human error, where WHO is considered negligent in reviewing any information before it is submitted to the public. Based on crisis communication theory, WHO is trying to rebuild public trust using the rebuild method, here WHO is rebuilding trust by not condemning the actions of some researchers who think that WHO has been wrong in conveying information to the public, In addition to having acknowledged to the media that based on available evidence regarding the spread of Covid-19 WHO has also not posted information that contains opposition that the corona virus could not be transmitted through the air a few months ago, based on the results of a survey conducted by researchers by checking the WHO Instagram account, and the WHO official website.
 Keywords: situational crisis communication theory, WHO, Covid-19
Downloads
Download data is not yet available.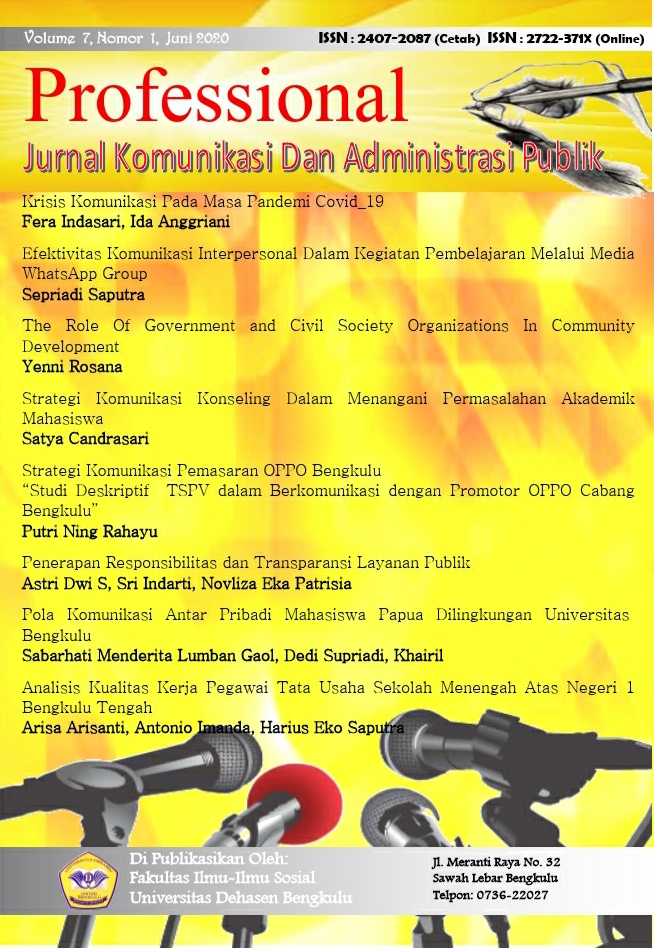 How to Cite
Indasari, F., & Anggriani, I. (2020). KRISIS KOMUNIKASI PADA MASA PANDEMI COVID-19 (Studi Kasus Pemberitaan Penyebaran Covid-19 melalui Udara). Profesional: Jurnal Komunikasi Dan Administrasi Publik, 7(1), 1-11. https://doi.org/10.37676/professional.v7i1.1086