Menganalisis Kemampuan Gemar Membaca Teks Narasi Siswa Di Man 2 Deli Serdang
Sonia Sabilla

Study Program of English Language Study, North Sumatera State Islamic University

Lutfi Putri Khairani

Study Program of English Language Study, North Sumatera State Islamic University

Edi Syaputra

Faculty of Tarbiyah and Teacher Training, North Sumatera State Islamic University
Keywords:
Penchant For Reading, Knowledge Of Narrative Text
Abstract
The study of the text of this narrative is supported by a lack of ability for reading in Indonesia that shows a love of reading levels in Indonesia in 2021 according to the national library of the republic of Indonesia reaching a 59.52 on the 0-100 scale, so researchers are trying to analyze a growth rate of reading at the madrasah aliyah with the learning materials about reading the text using leginaire's method of study instruments. Thus the purpose of this study is: to know students' knowledge of the narrative text, to know the degree of love of reading the narration text, to know how students can increase their love for reading the narration text. The research samples are from the xi and xii classes at the aliyah madrasah country of 2 Serbian deli 17 people. This method of research is the experimental method of sharing leginaire's with a student consisting of questions with answers of multiple choices and questions with answers written directly by the student as already learned. The data analysis used is subjective with the help of Google form. The results indicate 64.7 percent of students love reading narrative texts, 29.4% May love reading narrative texts and 5.9 % of students do not like reading naras text. I therefore conclude that the study has shown significant differences.
Downloads
Download data is not yet available.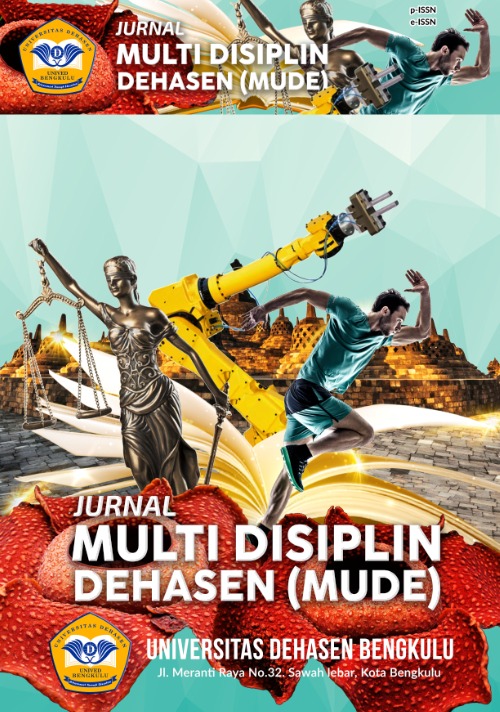 How to Cite
Sabilla, S., Khairani, L. P., & Syaputra, E. (2022). Menganalisis Kemampuan Gemar Membaca Teks Narasi Siswa Di Man 2 Deli Serdang. Jurnal Multidisiplin Dehasen (MUDE), 1(3), 159–164. https://doi.org/10.37676/mude.v1i3.2484
Copyright (c) 2022 Sonia Sabilla, Lutfi Putri Khairani, Edi Syaputra
This work is licensed under a Creative Commons Attribution-ShareAlike 4.0 International License.