PENGARUH SERBUK BIJI KECIPIR SEBAGAI KOAGULAN TERHADAP PENURUNAN KEKERUHAN DALAM AIR SUMUR GALI DI KELURAHAN RAWA MAKMUR
Riang Adeko

Mualim Mualim

Mifta Octafia
Keywords:
Koagulasi, Serbuk biji kecipir, Sumur Gali
Abstract
Air merupakan salah satu kebutuhan yang sangat vital bagi manusia. Manusia tidak bisa hidup tanpa air. Air bersih merupakan air yang harus bebas dari mikroorganisme penyebab penyakit dan bahan-bahan kimia yang dapat merugikan kesehatan manusia maupun makhluk hidup lainnya. Air keruh dan kotor merupakan penyebab penyakit-penyakit infeksi seperti : Typus abdominalis, Cholera, Diare, dan Dysentri biciller. Walaupun bakteri penyebab penyakit dapat dibunuh dengan memasak air hingga mendidih, tetapi juga terdapat zat berbahaya terutama logam yang dapat menyebabkan keracunan.Penelitian ini menitikberatkan pada penggunaan biji kecipir sebagai koagulan alami sehingga dapat diketahui kemampuan serbuk biji kecipir dalam menurunkan kadar kekeruhan pada air sumur gali. Metode yang digunakan dalam penelitian ini, yaitu dengan koagulasi-flokulasi dan sedimentasi. Sampel air yang digunakan adalah air sumur gali warga Kelurahan Rawa Makmur. Hasil uji awal sampel dengan tingkat kekeruhan sebesar 139 NTU, variabel yang digunakan dalam proses koagulasi adalah dosis koagulan. Dari penelitian yang sudah dilakukan didapatkan hasil dengan dosis pertama rata-rata 106,6 NTU, dosis kedua rata-rata 124 NTU, dosis ketiga rata-rata 139 NTU, dosis yang paling efektif adalah 0,02 gram dengan rata-rata 106,6 NTU. Bagi Masyarakat diharapkan penelitian ini dapat menjadi alternatif masyarakat dalam memperbaiki kualitas fisik dari air sumur gali terutama perbaikan turbiditas atau kekeruhan, selanjutnya diharapkan dapat mengembangkan penelitian yang lebih bagus luas dengan menggunakan koagulan alami dari biji-bijian untuk memperbaiki turbiditas.
Downloads
Download data is not yet available.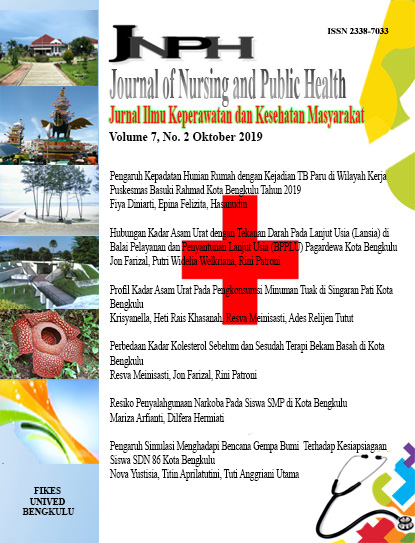 How to Cite
Adeko, R., Mualim, M., & Octafia, M. (2020). PENGARUH SERBUK BIJI KECIPIR SEBAGAI KOAGULAN TERHADAP PENURUNAN KEKERUHAN DALAM AIR SUMUR GALI DI KELURAHAN RAWA MAKMUR. Journal of Nursing and Public Health, 7(2), 51-55. https://doi.org/10.37676/jnph.v7i2.956
An author who publishes in the Journal of Nursing and Public Health agrees to the following terms:
Author retains the copyright and grants the journal the right of first publication of the work simultaneously licensed under the Creative Commons Attribution-ShareAlike 4.0 License that allows others to share the work with an acknowledgement of the work's authorship and initial publication in this journal
Submission of a manuscript implies that the submitted work has not been published before (except as part of a thesis or report, or abstract); that it is not under consideration for publication elsewhere; that its publication has been approved by all co-authors. If and when the manuscript is accepted for publication, the author(s) still hold the copyright and retain publishing rights without restrictions. For the new invention, authors are suggested to manage its patent before published. The license type is CC-BY-SA 4.0.
Journal of Nursing and Public Health is licensed under a Creative Commons Attribution-ShareAlike 4.0 International License.
You are free to:
Share — copy and redistribute the material in any medium or format
Adapt — remix, transform, and build upon the material
for any purpose, even commercially.
The licensor cannot revoke these freedoms as long as you follow the license terms.