KOMBINASI LIMBAH BATU BARA DAN LIMBAH CANGKANG KOPI SEBAGAI ADSORBEN DALAM MENURUNKAN KADAR BESI (Fe) PADA AIR SUMUR GALI
Riang Adeko

Defi Ermayendri
Keywords:
Adsorben, Limbah Batu Bara, Limbah Cangkang Kopi, Kadar Besi, Sumur Gali
Abstract
Air merupakan kebutuhan dasar bagi kehidupan, khususnya bagi manusia yang selama hidupnya selalu memerlukan air. Air digunakan oleh manusia untuk keperluan sehari-hari seperti minum, mandi, cuci, kakus, dan sebagainya. Survey awal yang dilakukan pada tanggal 08 Februari 2018 di sumur gali warga RT. 04 RW. 03 Kelurahan Rawa Makmur Permai Kota Bengkulu setelah dilakukan pengukuran diperoleh Besi (Fe) 1,39 mg/L. Dari hasil pengukuran pada survey awal diketahui bahwa air sumur gali warga RT.04 RW.03 Kelurahan Rawa Makmur Permai Kota Bengkulu masih melebihi ambang batas yang dipersyaratkan oleh Permenkes RI No.32 Tahun 2017. Tujuan penelitian ini adalah untuk mengetahui penurunan kadar Fe sebelum dan sesudah perlakuan dengan menggunakan variasi ketebalan kombinasi batubara dan cangkang kopi 20 cm, 30 cm, dan 50 cm serta untuk mengetahui variasi ketebalan paling efektif untuk menurunkan kadar Fe. Jenis penelitian ini menggunakan metode semi eksperimen (Quasi Experimental)  dengan desain post test with control group, yaitu penelitian dilakukan sebelum dan sesudah perlakuan. Kemudian dicari perbedaan antara pengukuran dari keduanya dan perbedaan ini dianggap sebagai akibat perlakuan. Hasil penelitian diperoleh variasi ketebalan paling efektif untuk menurunkan kadar Fe adalah dengan ketebalan 50 cm yang dapat menurunkan kadar besi (Fe) hingga 51,79 %.
Downloads
Download data is not yet available.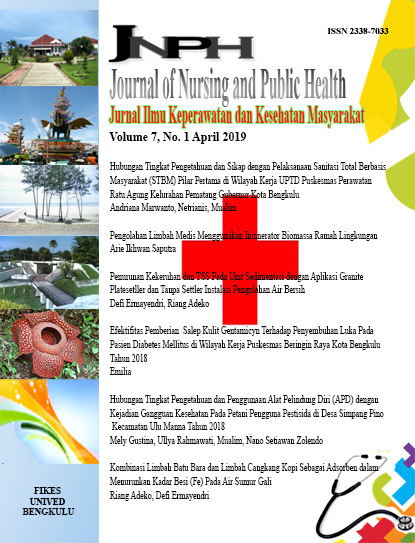 How to Cite
Adeko, R., & Ermayendri, D. (2019). KOMBINASI LIMBAH BATU BARA DAN LIMBAH CANGKANG KOPI SEBAGAI ADSORBEN DALAM MENURUNKAN KADAR BESI (Fe) PADA AIR SUMUR GALI. Journal of Nursing and Public Health, 7(1), 30-34. https://doi.org/10.37676/jnph.v7i1.759
An author who publishes in the Journal of Nursing and Public Health agrees to the following terms:
Author retains the copyright and grants the journal the right of first publication of the work simultaneously licensed under the Creative Commons Attribution-ShareAlike 4.0 License that allows others to share the work with an acknowledgement of the work's authorship and initial publication in this journal
Submission of a manuscript implies that the submitted work has not been published before (except as part of a thesis or report, or abstract); that it is not under consideration for publication elsewhere; that its publication has been approved by all co-authors. If and when the manuscript is accepted for publication, the author(s) still hold the copyright and retain publishing rights without restrictions. For the new invention, authors are suggested to manage its patent before published. The license type is CC-BY-SA 4.0.
Journal of Nursing and Public Health is licensed under a Creative Commons Attribution-ShareAlike 4.0 International License.
You are free to:
Share — copy and redistribute the material in any medium or format
Adapt — remix, transform, and build upon the material
for any purpose, even commercially.
The licensor cannot revoke these freedoms as long as you follow the license terms.