PENURUNAN KEKERUHAN DAN TSS PADA UNIT SEDIMENTASI DENGAN APLIKASI GRANITE PLATESETLLER DAN TANPA SETTLER INSTALASI PENGOLAHAN AIR BERSIH
Defi Ermayendri

Riang Adeko
Keywords:
Kekeruhan,TSS, Plate granit
Abstract
Pengolahan air sederhana, sebenarnya sudah cukup lama pernah disosialisasikan. Namun, sampai saat ini akses air minum (bersih) di Indonesia masih saja rendah.Unit pengolahan air yang sangat penting adalah bak sedimentasi, karena unit ini berpengaruh besar terhadap unit proses sebelum dan setelahnya. Pengolahan air di perdesaaan, biasanya hanya menggunakan unit filtrasi sederhana berupa pasir dan ijuk. Jika kekeruhan air baku tinggi, penggunaan media pasir dan ijuk tidak efisien digunakan karena membutuhkan waktu lebih untuk pencucian ulang atau backwash media filternya.Penelitianinibertujuanmendesain model unit sedimentasi menggunakan settler modifikasi granite tile dan untuk mengetahui pegaruh "granite tile settler" dalam menurunkan total suspended solid dan kekeruhan pada unit sedimentasi pengolahan air bersih.HasilpenelitianmenunjukkanbahwaModel unit sedimentasi menggunakan settler modifikasi granite tiledapat dibangun dengan murah dan mudah diaplikasikan.Penambahan granite tile sebagai settler memberikan pengaruh terhadap penurunan kekeruhan dan TSS masing-masing dengan efisiensi 54,62% dan 61,82% sedangkan tanpa settler memberikan penurunan masing-masing dengan efisiensi 43,61% dan 43,83%.
Downloads
Download data is not yet available.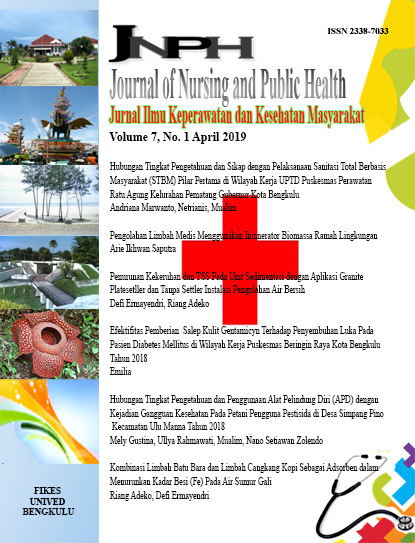 How to Cite
Ermayendri, D., & Adeko, R. (2019). PENURUNAN KEKERUHAN DAN TSS PADA UNIT SEDIMENTASI DENGAN APLIKASI GRANITE PLATESETLLER DAN TANPA SETTLER INSTALASI PENGOLAHAN AIR BERSIH. Journal of Nursing and Public Health, 7(1), 12-16. https://doi.org/10.37676/jnph.v7i1.756
An author who publishes in the Journal of Nursing and Public Health agrees to the following terms:
Author retains the copyright and grants the journal the right of first publication of the work simultaneously licensed under the Creative Commons Attribution-ShareAlike 4.0 License that allows others to share the work with an acknowledgement of the work's authorship and initial publication in this journal
Submission of a manuscript implies that the submitted work has not been published before (except as part of a thesis or report, or abstract); that it is not under consideration for publication elsewhere; that its publication has been approved by all co-authors. If and when the manuscript is accepted for publication, the author(s) still hold the copyright and retain publishing rights without restrictions. For the new invention, authors are suggested to manage its patent before published. The license type is CC-BY-SA 4.0.
Journal of Nursing and Public Health is licensed under a Creative Commons Attribution-ShareAlike 4.0 International License.
You are free to:
Share — copy and redistribute the material in any medium or format
Adapt — remix, transform, and build upon the material
for any purpose, even commercially.
The licensor cannot revoke these freedoms as long as you follow the license terms.