HUBUNGAN PENGETAHUAN DENGAN KEJADIAN INFEKSI MENULAR SEKSUAL  DI PUSKESMAS PENURUNAN KOTA BENGKULU TAHUN 2018
Fiya Diniarti

Universitas Dehasen Bengkulu

Epina Felizita

Universitas Dehasen Bengkulu

Hasanudin Hasanudin

Universitas Dehasen Bengkulu
Keywords:
Infeksi menular seksual, pengetahuan
Abstract
Infeksi Menular Seksual (IMS) adalah infeksi yang ditularkan melalui hubungan seksual baik secara vaginal, anal dan oral. Berdasarkan data Kemenkes 2012 didapatkan kasus IMS sebanyak 140.803 kasus, data dari Dinas Kesehatan Kota Bengkulu jumlah kasus IMS pada WPS sebanyak 148 kasus, dan Data laporan tahunan di UPTD Puskesmas Penurunan Kota Bengkulu ditahun 2017 sebanyak 86 kasus. Tujuan penelitian Untuk mengetahui hubungan pengetahuan dengan kejadian infeksi menular seksual (IMS) di wilayah kerja Puskesmas Penurunan Kota Bengkulu Tahun 2018. Penelitian ini menggunakan metode kuantitatif secara analitik, analisa data Univariat dan Bivariat dengan jenis desain Cross Sectional.Jumlah sampel 88 responden dengan teknik pengambilan sampel secara Accidental Sampling dengan menggunakan instrument kuesioner, uji Chi-square, dan pengolahan data menggunakan SPSS 16.0. Hasil Penelitian ini didapatkan bahwa ada hubungan antara pengetahuan dengan kejadian Infeksi menular seksual (IMS). Berdasarkan hasil uji statistic Chi square p=0,00<α (0,05). Berdasarkan hasil penelitian dapat disimpulkan bahwa hubungan antara pengetahuan dengan kejadian Infeksi menular seksual (IMS). Saran bagi Puskesmas agar dapat memberikan informasi kepada masyarakat terkait penanggulangan penyakit IMS melalui media offline dan online secara kontinue dan sustainable.
Downloads
Download data is not yet available.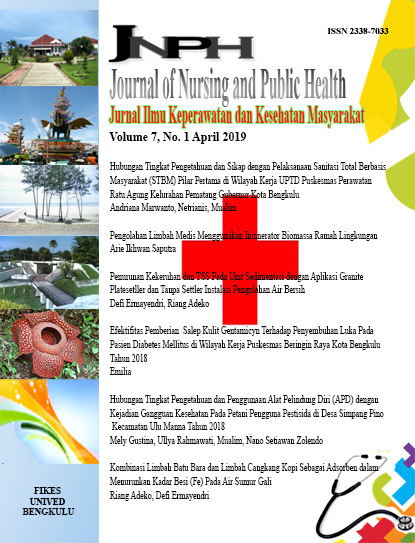 How to Cite
Diniarti, F., Felizita, E., & Hasanudin, H. (2019). HUBUNGAN PENGETAHUAN DENGAN KEJADIAN INFEKSI MENULAR SEKSUAL  DI PUSKESMAS PENURUNAN KOTA BENGKULU TAHUN 2018. Journal of Nursing and Public Health, 7(1), 52-58. https://doi.org/10.37676/jnph.v7i1.785
An author who publishes in the Journal of Nursing and Public Health agrees to the following terms:
Author retains the copyright and grants the journal the right of first publication of the work simultaneously licensed under the Creative Commons Attribution-ShareAlike 4.0 License that allows others to share the work with an acknowledgement of the work's authorship and initial publication in this journal
Submission of a manuscript implies that the submitted work has not been published before (except as part of a thesis or report, or abstract); that it is not under consideration for publication elsewhere; that its publication has been approved by all co-authors. If and when the manuscript is accepted for publication, the author(s) still hold the copyright and retain publishing rights without restrictions. For the new invention, authors are suggested to manage its patent before published. The license type is CC-BY-SA 4.0.
Journal of Nursing and Public Health is licensed under a Creative Commons Attribution-ShareAlike 4.0 International License.
You are free to:
Share — copy and redistribute the material in any medium or format
Adapt — remix, transform, and build upon the material
for any purpose, even commercially.
The licensor cannot revoke these freedoms as long as you follow the license terms.