STUDI FAKTOR RISIKO KECACINGAN PADA PETANI SAYUR DI TELUK SEPANG WILAYAH KERJA PUSKESMAS PADANG SERAI KOTA BENGKULU TAHUN 2021
HAIDINA ALI

POLITEKNIK KESEHATAN KEMENTERIAN KESEHATAN BENGKULU, JURUSAN KESEHATAN LINGKUNGAN

GUSTOMO YAMISTADA

POLITEKNIK KESEHATAN KEMENTERIAN KESEHATAN BENGKULU, JURUSAN KESEHATAN LINGKUNGAN

SRI MULYATI

POLITEKNIK KESEHATAN KEMENTERIAN KESEHATAN BENGKULU, JURUSAN KESEHATAN LINGKUNGAN

MELY GUSTINA

POLITEKNIK KESEHATAN KEMENTERIAN KESEHATAN BENGKULU
Keywords:
Cacing, Petani, Pengetahuan, Kebiasaan, Menanam, Panen
Abstract
Penyakit infeksi yang disebabkan oleh cacing di Indonesia pada tahun 1986-1991 masih tinggi prevalensinya yaitu 60%-80%. Hal ini terjadi dikarenakan Indonesia berada dalam posisi geografis yang temperature dan kelembaban yang sesuai untuk tempat hidup dan berkembang biaknya cacing Keberadaan dan penyebaran suatu parasit di suatu daerah tergantung pada berbagai hal, yaitu adanya hospes yang peka, terdapatnya kondisi lingkungan yang sesuai bagi kehidupan parasit, kurangnya sarana air bersih, kebiasaan makan dengan tangan yang tidak dicuci terlebih dahulu, pemakaiaan berulang-ulang daun dan pembungkus makanan, sayur-sayuran yang dimakan mentah, penggunaan air sungai untuk berbagai kebutuhan hidup (mandi, mencuci bahan makanan,Tujuan Penelitian untuk mengetahui kontaminasi telur cacing pada petani sayuran di Teluk Sepang Kota Bengkulu Tahun 2021.. Jenis penelitian Penelitian ini merupakan penelitian survei dengan pendekatan studi potong lintang (crosssectional).. Hasil penelitian didapatkan sebanyak 18 (56.3%) responden kategori positif kecacingan dan 14 (43.8%) respon denkategori negative kecacingan. Selanjutnya di uji menggunakan SPSS didapat kan hasil Ada hubungan antara pengetahuan petani terhadap kontaminasi telur cacing (nilai p=0,002), tidak ada hubungan kebiasaan petani terhadap kontaminasi telur cacing (nilai p=0,0854), ada hubungan penanaman petani terhadap kontaminasi telur cacing (nilai p=0,002) dan tidak ada hubungan pemanenan petani terhadap kontaminasi telur cacing (nilai p=0,419). Diharapkan Masyarakat hendaknya sebelum mengkonsumsi sayuran khususnya sayuran mentah untuk membersihkan sayuran dengan sebaik-baiknya dan menggunakan sabun atau detergen pembasmi kuman seperti sabun cair atau sejenisnya.
Downloads
Download data is not yet available.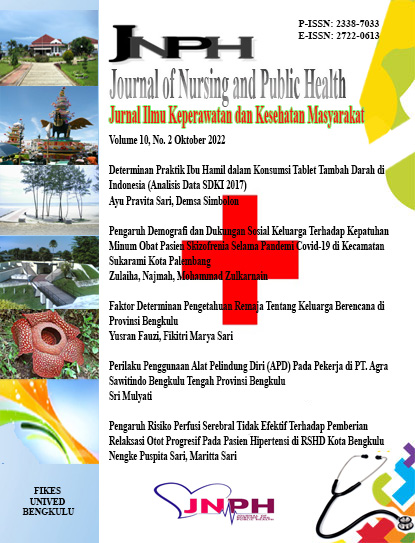 How to Cite
ALI, H., YAMISTADA, G., MULYATI, S., & GUSTINA, M. (2022). STUDI FAKTOR RISIKO KECACINGAN PADA PETANI SAYUR DI TELUK SEPANG WILAYAH KERJA PUSKESMAS PADANG SERAI KOTA BENGKULU TAHUN 2021. Journal of Nursing and Public Health, 10(2), 48-54. https://doi.org/10.37676/jnph.v10i2.3127
An author who publishes in the Journal of Nursing and Public Health agrees to the following terms:
Author retains the copyright and grants the journal the right of first publication of the work simultaneously licensed under the Creative Commons Attribution-ShareAlike 4.0 License that allows others to share the work with an acknowledgement of the work's authorship and initial publication in this journal
Submission of a manuscript implies that the submitted work has not been published before (except as part of a thesis or report, or abstract); that it is not under consideration for publication elsewhere; that its publication has been approved by all co-authors. If and when the manuscript is accepted for publication, the author(s) still hold the copyright and retain publishing rights without restrictions. For the new invention, authors are suggested to manage its patent before published. The license type is CC-BY-SA 4.0.
Journal of Nursing and Public Health is licensed under a Creative Commons Attribution-ShareAlike 4.0 International License.
You are free to:
Share — copy and redistribute the material in any medium or format
Adapt — remix, transform, and build upon the material
for any purpose, even commercially.
The licensor cannot revoke these freedoms as long as you follow the license terms.