EFEKTIVITAS EKSTRAK BUAH PINANG MUDA (ARECA CATECHU L.) TERHADAP KEMATIAN LARVA AEDES SP
HAIDINA ALI

Poltekkes Kemenkes Bengkulu
Keywords:
Ekstrak, Buah Pinang Muda, Aedes sp
Abstract
Deman Berdarah Dengue adalah penyakit demam akut yang disebabkan virus dengue yang masuk ke peredaran darah manusia melalui gigitan nyamuk dari genus Aedes.Aedes aegypti dan Aedes albopictus merupakan vektor utama penularan penyakit DBD. Pencegahan penyakit DBD dilakukan dengan memutus mata rantai penularan. Insektisida hayati terbukti berpotensi mengendalikan vektor. Penelitian ini diketahuinya efektivitas ekstrak buah pinang muda (Areca catechu L.) terhadap kematian larva nyamuk Aedes sp. Metode penelitian ini true eksperimen dengan rancangan Post Test Only Control Group Design. Penelitian menunjukkan presentase rata-rata kematian larva pada konsentrasi 2000 ppm sebesar 39,2%, konsentrasi 3000 ppm sebesar 72%, konsentrasi 4000 ppm sebesar 84,8% dan konsentrasi 5000 ppm sebesar 100%. Hasil Uji One Way Anova diperoleh p-value = 0,000 (p = < 0,05) sehingga dinyatakan ada perbedaan signifikan pada jumlah larva yang mati pada berbagai konsentrasi dan hasil Uji Bonferroni diperoleh konsentrasi yang paling efektif terhadap kematian larva nyamuk Aedes sp pada konsentrasi 5000 ppm. Diharapkan penelitian selanjutnya menemukan formulasi buah pinang muda yang lebih aplikatif sehingga penggunaannya lebih mudah dimasyarakat.
Downloads
Download data is not yet available.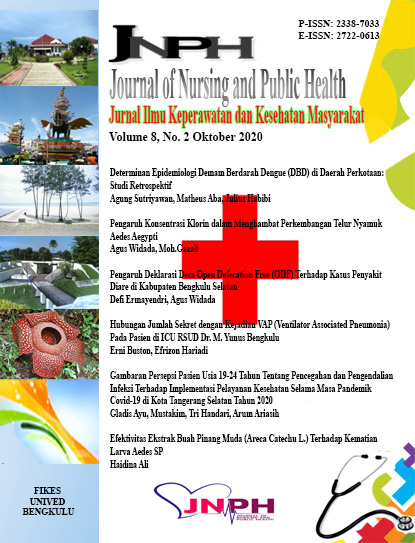 How to Cite
ALI, H. (2020). EFEKTIVITAS EKSTRAK BUAH PINANG MUDA (ARECA CATECHU L.) TERHADAP KEMATIAN LARVA AEDES SP. Journal of Nursing and Public Health, 8(2), 37-45. https://doi.org/10.37676/jnph.v8i2.1179
An author who publishes in the Journal of Nursing and Public Health agrees to the following terms:
Author retains the copyright and grants the journal the right of first publication of the work simultaneously licensed under the Creative Commons Attribution-ShareAlike 4.0 License that allows others to share the work with an acknowledgement of the work's authorship and initial publication in this journal
Submission of a manuscript implies that the submitted work has not been published before (except as part of a thesis or report, or abstract); that it is not under consideration for publication elsewhere; that its publication has been approved by all co-authors. If and when the manuscript is accepted for publication, the author(s) still hold the copyright and retain publishing rights without restrictions. For the new invention, authors are suggested to manage its patent before published. The license type is CC-BY-SA 4.0.
Journal of Nursing and Public Health is licensed under a Creative Commons Attribution-ShareAlike 4.0 International License.
You are free to:
Share — copy and redistribute the material in any medium or format
Adapt — remix, transform, and build upon the material
for any purpose, even commercially.
The licensor cannot revoke these freedoms as long as you follow the license terms.