HUBUNGAN FAKTOR LINGKUNGAN RUMAH TERHADAP KEJADIAN TB PARU BTA POSITIF DI WILAYAH PUSKESMAS NUSA INDAH KOTA BENGKULU
Arni Zuraidah

Haidina Ali

Poltekkes Kemenkes Bengkulu
Keywords:
Lingkungan Rumah dan Tuberkulosis Paru
Abstract
Di Wilayah Puskesmas Nusa Indah Kota Bengkulu memiliki wilayah kerja puskesmas sebanyak 4 kelurahan yang terdiri dari  Kelurahan Tanah Patah, Kelurahan Kebun Kenanga, Kelurahan Kebun Beler, dan Kelurahan Nusa Indah didapatkan penderita TB Paru Positif sebanyak 78 orang dan TB Paru Suspek dari bulan januari sampai desember 2018 didapatkan sebanyak 313 orang. Tujuan penelitian ini untuk mengetahui hubungan faktor lingkungan rumah terhadap kejadian TB Paru BTA Positif di Wilayah KerjaPuskesmas Nusa Indah Kota Bengkulu. Jenis penelitian ini menggunakan metodeobservasi dengan desain case control.Teknik pengambilan sampel berdasarkan kriteria inklusi dan eklusi dengan menggunakan uji Chi-Square. Data diperoleh berdasarkan catatan medis yaitu 65 kasus dan 65 kontol,jumlah keseleruhan 130 responden. Hasil penelitian ini menunjukkan bahwa sebagian besar responden memiliki faktorlingkungan rumah yang tidak memenuhi syarat diantaranya Ada hubungan antara ventilasi (p=0,000 dan OR= 9,194), kelembaban (p=0,000 dan OR= 9,667), pencahayaan (p=0,008 dan 0R=2,722), dan lantai (p=0,000 dan OR= 5,431) dengan kejadian tuberkulosis paru BTA Positif di wilayah kerja Puskesmas Nusa Indah. Dapat disimpulkan bahwa faktor lingkungan rumah responden yang menderita TB Paru BTA Positif di wilayah kerja Puskesmas Nusa Indah Kota Bengkulu sebagian besar belum memenuhi syarat. Memberikan informasi pada petugas yang menangani pengobatan penderita TB agar ditingkatkan pemasangan poster tentang waspada penyakit TB.Bagi mereka penderita TB yang lingkungan rumah tidak sehat agar sedini mungkin untuk memperbaiki rumah.
Downloads
Download data is not yet available.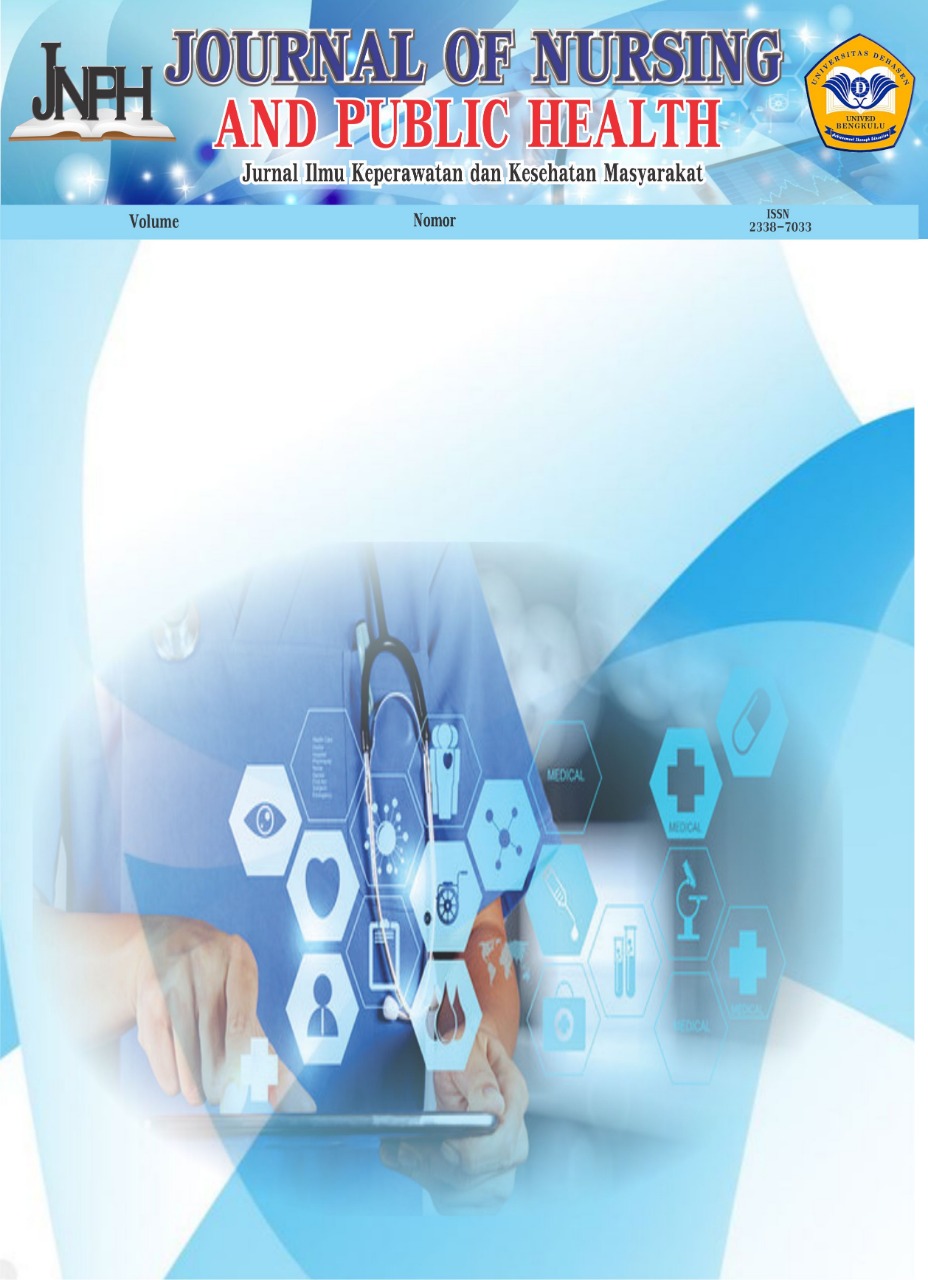 How to Cite
Zuraidah, A., & Ali, H. (2020). HUBUNGAN FAKTOR LINGKUNGAN RUMAH TERHADAP KEJADIAN TB PARU BTA POSITIF DI WILAYAH PUSKESMAS NUSA INDAH KOTA BENGKULU. Journal of Nursing and Public Health, 8(1), 1-10. https://doi.org/10.37676/jnph.v8i1.1004
An author who publishes in the Journal of Nursing and Public Health agrees to the following terms:
Author retains the copyright and grants the journal the right of first publication of the work simultaneously licensed under the Creative Commons Attribution-ShareAlike 4.0 License that allows others to share the work with an acknowledgement of the work's authorship and initial publication in this journal
Submission of a manuscript implies that the submitted work has not been published before (except as part of a thesis or report, or abstract); that it is not under consideration for publication elsewhere; that its publication has been approved by all co-authors. If and when the manuscript is accepted for publication, the author(s) still hold the copyright and retain publishing rights without restrictions. For the new invention, authors are suggested to manage its patent before published. The license type is CC-BY-SA 4.0.
Journal of Nursing and Public Health is licensed under a Creative Commons Attribution-ShareAlike 4.0 International License.
You are free to:
Share — copy and redistribute the material in any medium or format
Adapt — remix, transform, and build upon the material
for any purpose, even commercially.
The licensor cannot revoke these freedoms as long as you follow the license terms.