TVRI TV Station Broadcasting Management
Winda Kustiawan

Universitas Islam Negeri Sumatera Utara

Razkiatul Fitri Matondang

Universitas Islam Negeri Sumatera Utara

Sherly Alfina

Universitas Islam Negeri Sumatera Utara

Hibriyanti Hibriyanti

Universitas Islam Negeri Sumatera Utara

Suci Nabila

Universitas Islam Negeri Sumatera Utara
Keywords:
Broadcasting Management, TVRI TV Station
Abstract
Television is a strategic audiovisual media in disseminating information. This study used descriptive qualitative method. The type of data used is secondary data. Secondary data were obtained from books, theses, journals, articles and the internet. This study aims to analyze the strategic management of the TVRI Public Broadcasting Institution news program, which was later called LPP TVRI. The research focuses on the strategic management of LPP TVRI in broadcasting programs. The strategy used to support this research is a program strategy in terms of management aspects proposed by Peter Pringle, namely Planning, Production, Execution, and Monitoring and Evaluation. The data collection technique used by the researcher is to conduct interviews with resource persons who play an important role and understand the strategic management of the Indonesia Malam news program. The paradigm used in this research is constructivism. The conclusion of this study is that the strategic management that has been applied by LPP TVRI to the Indonesia Malam news program, however, is still found to be lacking, such as limited funds and poor management, so that the results of program broadcasting have not been maximized.
Downloads
Download data is not yet available.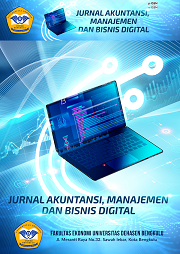 How to Cite
Kustiawan, W., Matondang, R. F., Alfina, S., Hibriyanti, H., & Nabila, S. (2022). TVRI TV Station Broadcasting Management. Jurnal Akuntansi, Manajemen Dan Bisnis Digital, 1(2), 307–312. https://doi.org/10.37676/jambd.v1i2.2587
Copyright (c) 2022 Winda Kustiawan, Razkiatul Fitri Matondang, Sherly Alfina, Hibriyanti Hibriyanti, Suci Nabila
This work is licensed under a Creative Commons Attribution-ShareAlike 4.0 International License.