The Role of Information and Communication Technology in the FP3K Community (Youth Forum Cares for Karo Education)
Ahmad Andrehadi Hasibuan

Universitas Islam Negeri Sumatera Utara

Niatul Mukarramah

Universitas Islam Negeri Sumatera Utara

Razkiatul Fitri Matondang

Universitas Islam Negeri Sumatera Utara

Sherly Alfina

Universitas Islam Negeri Sumatera Utara

Silvi Hibriyanti

Universitas Islam Negeri Sumatera Utara

Elfi Yanti Ritonga

Universitas Islam Negeri Sumatera Utara
Keywords:
The Role of Information and Communication Technology, FP3K Community
Abstract
Humans are basically social creatures. In traditional life, the tendency of humans to live socially can be seen from their daily activities that require interaction with other humans such as fulfilling basic needs. They try to find connectivity with other humans in the search for these needs even though they are in different environments and do not know each other, it is the process that then forms communities which are social groups of several organisms that share an environment that generally has the same interests. The development of technology, especially the Internet, has a great impact on the culture of the community in their activities, the growth of this media has an influence on the culture of the community in interacting and communicating. With various developments of internet media such as social media, blogs, microblogs, web-communities, portals and so on, people can easily interact online or directly at the same time without any geographical, space or time restrictions, they can share anything "realtime". "Especially with the development of gadgets that make it easier for people to connect with each other. Interaction between individuals in cyberspace can be said to be a process of representing themselves through the medium of digital internet media, not physical presentations. The ease of connection that continues to develop changes the culture of social activities such as the ease in sharing various problems that exist around them and opening up the active role of its members to build solutions or a common goal. The focus of research in discussing this journal is the role of Information and Communication Technology in the FP3K community (Forum Pemuda Peduli Pendidikan Karo).
Downloads
Download data is not yet available.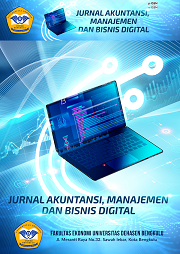 How to Cite
Hasibuan, A. A., Mukarramah, N., Matondang, R. F., Alfina, S., Hibriyanti, S., & Ritonga, E. Y. (2022). The Role of Information and Communication Technology in the FP3K Community (Youth Forum Cares for Karo Education). Jurnal Akuntansi, Manajemen Dan Bisnis Digital, 1(2), 297–306. https://doi.org/10.37676/jambd.v1i2.2586
Copyright (c) 2022 Ahmad Andrehadi Hasibuan, Niatul Mukarramah, Razkiatul Fitri Matondang, Sherly Alfina, Silvi Hibriyanti, Elfi Yanti Ritonga
This work is licensed under a Creative Commons Attribution-ShareAlike 4.0 International License.