Analysis of ZIS Fund Management in the Madrasa Teacher Care Program for Minority Regions of North Sumatra in Baznas, North Sumatra Province
Tanzila Arifah Putri

Universitas Islam Negeri Sumatera Utara

Marliyah Marliyah

Universitas Islam Negeri Sumatera Utara
Keywords:
ZIS, Minority Areas, Care
Abstract
This study aims to find out and analyze how ZIS funds are managed in the Madrasah Teacher Care Program in Minority Areas of North Sumatra at BAZNAS, North Sumatra Province. This study uses a qualitative method where this research method is to understand social or human events by creating a comprehensive and complex picture that can be presented in words, reporting detailed data from informant sources. The result of this study is to find out how to manage ZIS funds in the minority madrasa teacher care program in North Sumatra Province. With the aim that if this program is successful, it will become a strong and good foundation for us to help the people.
Downloads
Download data is not yet available.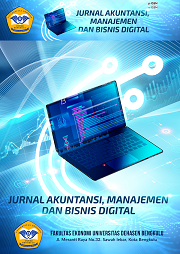 How to Cite
Putri, T., & Marliyah, M. (2022). Analysis of ZIS Fund Management in the Madrasa Teacher Care Program for Minority Regions of North Sumatra in Baznas, North Sumatra Province. Jurnal Akuntansi, Manajemen Dan Bisnis Digital, 1(2), 49-. https://doi.org/10.37676/jambd.v1i2.2253
Copyright (c) 2022 Tanzila Arifah Putri, Marliyah Marliyah
This work is licensed under a Creative Commons Attribution-ShareAlike 4.0 International License.