Analysis of the Role of the Supervision Task Force of the North Sumatra Province Cooperatives and SMEs Office in Supervising Savings and Loans Cooperatives
Suwarni Suwarni

Fakultas Ekonomi dan Bisnis Islam, Universitas Islam Negeri Sumatera Utara

Marliyah Marliyah

Universitas Islam Negeri Sumatera Utara
Keywords:
Cooperatives, Supervision, Supervisory Task Force
Abstract
Cooperatives are part of the economic structure, this means that in their activities cooperatives take part in achieving a prosperous economy, both for people who are members of the association itself and for the surrounding community. This research uses descriptive qualitative research with secondary data collection techniques using interview, observation, and documentation techniques. The results of the author's research found that the obstacles faced in carrying out the supervisory task force at the cooperative and UKM service in the province of North Sumatra in supervising problematic savings and loan cooperatives were: 1. Cooperatives were less coopera tive in reporting the progress of the peace agreement implementation process to its members. 2. Mismatch of payments in terms of timeliness and nominal payments to cooperative members in accordance with the peace agreement scheme. 3. Disagreements of some members who do not agree to peace but are still bound by the peace agreement. 4. There are summons by law enforcement officers against members and administrators who hinder the peace process. 5. The process of asset liquidity is hampered for the purpose of paying cooperative obligations to members due to economic conditions due to the pandemic
Downloads
Download data is not yet available.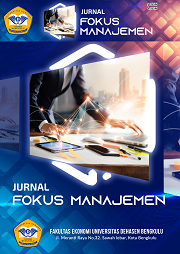 How to Cite
Suwarni, S., & Marliyah, M. (2022). Analysis of the Role of the Supervision Task Force of the North Sumatra Province Cooperatives and SMEs Office in Supervising Savings and Loans Cooperatives. Jurnal Fokus Manajemen, 2(1), 39 - 44. https://doi.org/10.37676/jfm.v2i1.2154
Copyright (c) 2022 Suwarni Suwarni, Marliyah Marliyah
This work is licensed under a Creative Commons Attribution-ShareAlike 4.0 International License.