Analisis Mutu Susu Tempe Dengan Variasi Jenis Kacang dan Zat Penstabil
Herlin Santoso

Methatias Ayu Moulina

agritepa author

Universitas Dehasen Bengkulu
Abstract
Susu tempe merupakan produk hasil ekstraksi tempe dengan air sehingga diperoleh larutan dengan komponen padatan terlarut. Masalah yang sering muncul dalam proses pembuatan susu nabati ialah rendahnya mutu susu yang dihasilkan baik dari sifat fisik, kimia maupun organoleptik. Penelitian ini ini bertujuan untuk menganalisis mutu susu tempe dengan variasi jenis kacang dan zat penstabil.
            Penelitian ini menggunakan Rancangan Acak Lengkap (RAL) dengan menggunakan dua faktor beda, yaitu jenis kacang (kacang kedelai, kacang merah dan kacang hijau) serta zat penstabil (Carboxymethyl cellulose  dan gum Arab konsentrasi 0,25 %) sehingga didapat 9 unit perlakuan. Masing – masing perlakuan dilakukan pengulangan sebanyak 3 kali.
            Hasil analisis viskositas dan protein susu tempe menunjukkan adanya perbedaan yang nyata pada taraf signifikan 5%. Nilai viskositas perlakuan jenis kacang ( kacang kedelai, kacang dan kacang hijau) dan penstabil (CMC dan gum arab) berkisar antara 6,30 x 10-3 hingga 54,27 x 10-3 dan nilai protein berkisar antara 6,46 % hingga 15,45 %. Hasil analisis organoleptik menunjukkan bahwa perlakuan memberikan pengaruh nyata terhadap warna dan rasa pada tingkat signifikan 5%, yaitu rata – rata penilaian terhadap warna  3,15 (agak suka) hingga 3,95 (suka) dan  rasa  2,55 (agak suka) hingga 3,55 (suka)  sedangkan pada variabel organoleptik terhadap aroma dan tekstur tidak berbeda nyata pada tingkat signifikan 5 %. Penilaian terhadap aroma 2,75 (agak suka) hingga 3,6 (suka) dan tekstur 3 (agak suka) hingga 3,6 (suka).
Kata kunci : susu tempe, jenis kacang, zat penstabil
Downloads
Download data is not yet available.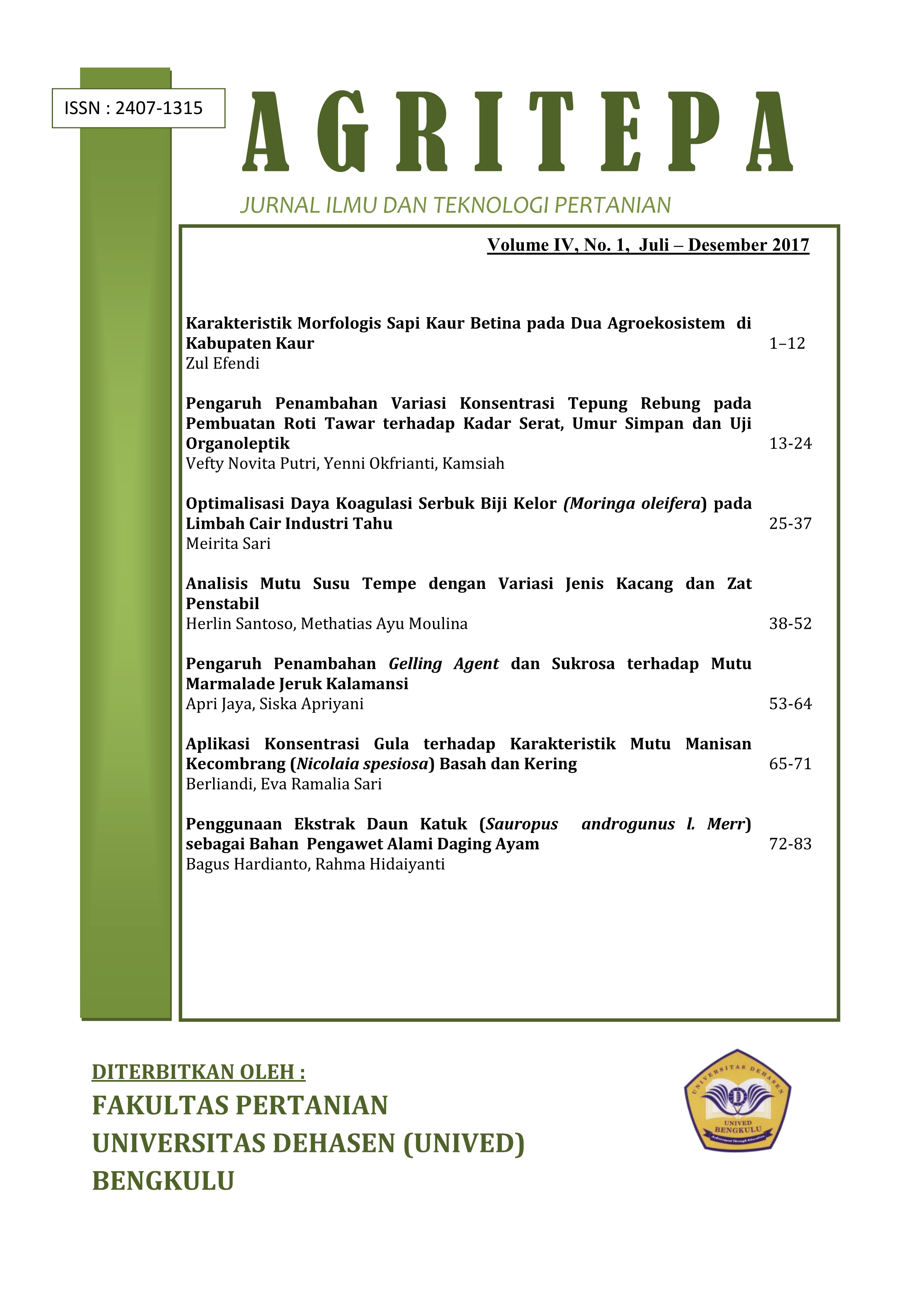 How to Cite
Santoso, H., Moulina, M., & author, agritepa. (2018). Analisis Mutu Susu Tempe Dengan Variasi Jenis Kacang dan Zat Penstabil. AGRITEPA: Jurnal Ilmu Dan Teknologi Pertanian, 4(2), 38 - 52. https://doi.org/10.37676/agritepa.v4i2.675
An author who publishes in the Jurnal AGRITEPA agrees to the following terms:
Author retains the copyright and grants the journal the right of first publication of the work simultaneously licensed under the Creative Commons Attribution-ShareAlike 4.0 License that allows others to share the work with an acknowledgement of the work's authorship and initial publication in this journal
Submission of a manuscript implies that the submitted work has not been published before (except as part of a thesis or report, or abstract); that it is not under consideration for publication elsewhere; that its publication has been approved by all co-authors. If and when the manuscript is accepted for publication, the author(s) still hold the copyright and retain publishing rights without restrictions. For the new invention, authors are suggested to manage its patent before published. The license type is CC-BY-SA 4.0.
Jurnal AGRITEPA is licensed under a Creative Commons Attribution-ShareAlike 4.0 International License.