Analysis Of Attitudes Towards Local Food Products Of Rejang Culture In Central Bengkulu Regency
Sri Ekanengsih

Program Studi Agribisnis Fakultas Pertanian Universitas Dehasen Bengkulu

Herri Fariadi

Program Studi Agribisnis Fakultas Pertanian Universitas Dehasen Bengkulu

Rika Dwi Yulihartika

Program Studi Agribisnis Fakultas Pertanian, Universitas Dehasen Bengkulu
Keywords:
Community  Attitudes, Community  Knowledge, Local  Food  Products, Rejang Culture
Abstract
Local food products receive less attention by the people in Pondok Kelapa District and without realizing it the position of local food products is increasingly marginalized and rarely found at this time. This is marked by the growing development of modern culinary sellers and modern retailers such as Indomaret and Alfamart in all corners of Bengkulu Province. The purpose of this study is to identify the types of local food products of Rejang culture, to find out the attitude of the people towards the local food products of Rejang culture, to find out the level of community's knowledge of the local food products of Rejang culture in Central Bengkulu Regency. The research method used is a qualitative method using domain analysis and descriptive analysis. Data collected through questionnaires, tabulated using Microsoft Excel to give a score according to the system applied. The results showed that there were 18 identified types of local food for Rejang tribe which were classified into 3 categories, namely side dishes (4 types), pelampun food (snacks) (8 types) and drinks (6 types). The community's attitude towards the local food of Rejang tribe in Central Bengkulu Regency is categorized as very good or very like it. The community's knowledge of the local food of Rejang tribe in Central Bengkulu Regency, on average, is in the medium or good category.
Downloads
Download data is not yet available.
References
Adiasih dan Riky. 2018. Persepsi terhadap Pangan lokal Jawa Timur ; Studi Awal terhadap Mahasiswa Perguruan Tinggi Swasta di Surabaya. Kinerja. 19 (2).
Fadhilah. 2018. Kearifan Lokal dalam Membentuk Daya Pangan Loal Komunitas Molamahu Pulubala Gorontalo. Al Turas. 19 (1).
Hadisantoso, H. 2018. Pangan lokal Yang Memiliki Kandungan Gisi Dan Keamanan Yang Baik, Prosiding Seminar pengembangan Pangan Tradisional. Kantor Menteri Negara Urusan Pangan, Bulog. Yogyakarta.
Harper. 2019. Exploring Sosial Change. Prentice Hall. New Jersey.
Handoko. 2010. Prilaku Konsumen BPFE. Yogyakarta.
Harun, C. 2006. Analisis Faktor-Faktor Yang Mempengaruhi Kepuasan Pelanggan Untuk Meningkatkan Loyalitas Pelanggan Produk Telkom Flexi. (Studi Kasus PT.Telekomunikasi Indonesia Kota Semarang). Skripsi Program Studi Magister Manajemen Program Pasca Sarjana, Universitas Diponegoro, Semarang.
Laurer. 2016. Perspektif tentang Perubahan Sosial. Rineka Cipta. Jakarta.
Pawiroharsono, S.2017. Potensi Pengembangan Industri dan Bioekonomi Berbasis Pangan lokal. Jurnal Ilmu Kefarmasian Indonesia Vol.5, No.2:85-91.
Permiashawai. 2007. Pengetahuan Lokal, Pangan lokal dan Ketahanan Pangan. Wikipedia Indonesia.
Saputra, Bopi. 2010. Studi Identifikasi Makanan Olahan Lokal Provinsi Bengkulu Berbahan Dasar Ikan. Skripsi fakultas pertanian. Jurusan Teknologi pertanian. Universitas Bengkulu. (Tidak dipublikasikan).
Safuan. 2017. Gaya Hidup, Konsumerisme dan Modernitas. Jurnal SUWA. Universitas Malikullsaleh. 5 (1) :38-46.
Sarwono. 2020. Sikap dan Perilaku Konsumen.. PT Elex Media Komputindo. Jakarta
Soekanto. 2017. Dasar-dasar Pengawasan dan Standarisasi Mutu Pangan. IPB Press. Bogor.
Sugiyono. 2012. Statistika Untuk Penelitian. Bandung: Alfabeta. Susanti. 2018. Identifikasi Makanan Khas Provinsi Bengkulu Berbahan Dasar Ikan. Prosiding Semitra Bidang Ilmu-ilmu BKSPTN Wilayah Barat. Vol 2.
Suyanto. 2008. Metodologi Penelitian Sosial. Edisi Revisi. Kencana Prenada Media. Indonesia.
Syamsir, E. 2011. Pangan Tradisianal Indonesia. www.ipb.ac.id. 2 Agustus 2022.
Sztompka. 2015. The Sociology of Sosial Change (diterjemahkan oleh Alimandan). Jakarta. Prenada
Media. Widiyanto. 2016. Sikap, Preferensi, dan Keputusan Pembelian Konsumen Terhadap Buah Apel (Kasus: Kota Malang dan Kota Surabaya Provinsi Jawa Timur). Tesis (tidak dipublikasikan) pada Sekolah Pascasarjana Institut Pertanian Bogor. Jawa Barat.
Winarno. 2016. Komersial Produk Pangan. PT. Gramedia Pustaka Utama. Jakarta.
Zurna Erin, 2019. Modifikasi Bahan Baku dan Rasio Ikan Pada Pembuatan Pangan lokal Suku Rejang. Skripsi Fakultas Pertanian. Jurusan Teknologi Pertanian. Universitas Bengkulu. (Tidak dipublikasikan).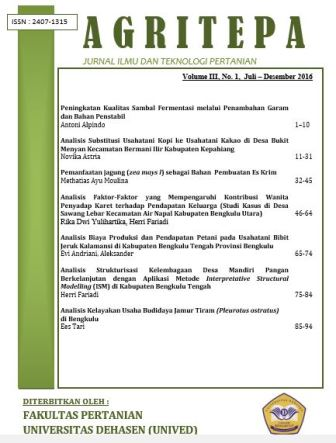 How to Cite
Ekanengsih, S., Fariadi, H., & Yulihartika, R. (2023). Analysis Of Attitudes Towards Local Food Products Of Rejang Culture In Central Bengkulu Regency. AGRITEPA: Jurnal Ilmu Dan Teknologi Pertanian, 10(1), 165-172. https://doi.org/10.37676/agritepa.v10i1.3784
Copyright (c) 2023 Sri Ekanengsih, Herri Fariadi, Rika Dwi Yulihartika
This work is licensed under a Creative Commons Attribution-ShareAlike 4.0 International License.
Author retains the copyright and grants the journal the right of first publication of the work simultaneously licensed under the Creative Commons Attribution-ShareAlike 4.0 License that allows others to share the work with an acknowledgement of the work's authorship and initial publication in this journal