PENGARUH JENIS TEMPE DAN BAHAN PENGIKAT TERHADAP KARAKTERISTIK NUGGET TEMPE
Novi Heridiansyah

Hesti Nur'aini

Darius -
Abstract
Nugget is one of the food products made from meat. Compared with nuggets of meat, production costs and materials needed for the processing of tempeh nuggets are much more economical. The purpose of this study was to determine the effect of the type of tempe and binder agents to protein content, texture and organoleptic properties of the product tempe nuggets. The research has done on tempe nuggets with variation treatment of raw material ( soybean tempe and benguk tempe) and variation of binder agent ( wheat flour, tapioca and cornstarch). The analysis in this research is a test protein content, texture and color parameters organileptik, flavor and texture. The analysis showed that the type of binder agent on the tempe nuggets effect on protein content and texture with the best treatment was obtained in the treatment of soybean tempe with wheat (for protein) and benguk tempe with wheat (for texture). Based on the analysis of sensory test, panelists like soybean tempe nuggets treatment and starch with an average value of 3.95 on a scale like (for color), soybean tempe nuggets and wheat with a value of 3.45 was on a scale like (for texture), while for the parameters of taste, there is no real difference.
Keywords : tempe, nuggets, binder agent
Downloads
Download data is not yet available.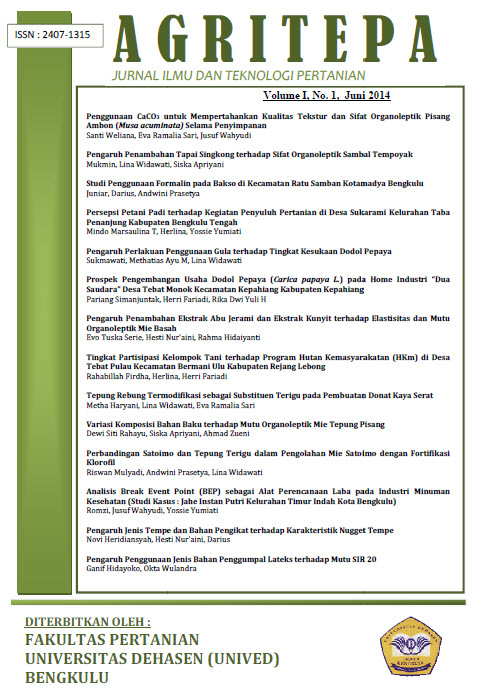 How to Cite
Heridiansyah, N., Nur'aini, H., & -, D. (2015). PENGARUH JENIS TEMPE DAN BAHAN PENGIKAT TERHADAP KARAKTERISTIK NUGGET TEMPE. AGRITEPA: Jurnal Ilmu Dan Teknologi Pertanian, 1(1). https://doi.org/10.37676/agritepa.v1i1.122
Section
Article Reasearch
Author retains the copyright and grants the journal the right of first publication of the work simultaneously licensed under the Creative Commons Attribution-ShareAlike 4.0 License that allows others to share the work with an acknowledgement of the work's authorship and initial publication in this journal