SUBTITUSI TEPUNG UBI JALAR DALAM PEMBUATAN BOLU GULUNG
Anton Ramadhan Ketra

Okta Wulandra
Abstract
Making rollscakewithsweetpotatofloursubstitution hasbeen done.Thisstudyaimedto analyzethelevelofpanelistpreferenceforcolor,flavorandtextureofsweetpotatorollscake.Thisstudyusedavariationofthetreatmentformulationsflourand sweetpotatowiththreetreatments,iecomparisonofsweetpotatoflour:wheatflour750grams:250grams ;500grams:500grams;250grams:750grams.Parametersmeasuredwerepanelistspreferencelevelofthecolor,flavorandtexture.Theresultsshowedthatthesweetpotatoflourrollsinlikemostconsumersistheformulationofsweetpotatoflour500gramsand 500gramsofwheatflour.
Keywords:rollscake,flour,sweetpotatoflour
Making rolls cake with sweet potato flour substitution has been done . This study aimed to
analyze the level of panelist preference for color , flavor and texture of sweet potato rolls
cake. This study used a variation of the treatment formulations flour and sweet potato with
three treatments, ie comparison of sweet potato flour : wheat flour 750 grams : 250 grams
; 500 grams : 500 grams ; 250 grams : 750 grams . Parameters measured were panelists
preference level of the color, flavor and texture . The results showed that the sweet potato
flour rolls in like most consumers is the formulation of sweet potato flour 500 grams and
500 grams of wheat flour .
Keywords : rolls cake , flour , sweet potato flour
Downloads
Download data is not yet available.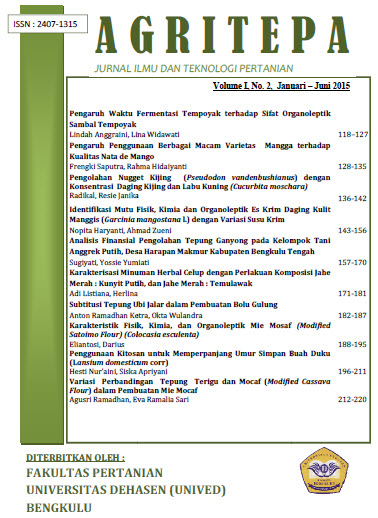 How to Cite
Ketra, A., & Wulandra, O. (2015). SUBTITUSI TEPUNG UBI JALAR DALAM PEMBUATAN BOLU GULUNG. AGRITEPA: Jurnal Ilmu Dan Teknologi Pertanian, 2(1). https://doi.org/10.37676/agritepa.v2i1.106
Section
Article Reasearch
Author retains the copyright and grants the journal the right of first publication of the work simultaneously licensed under the Creative Commons Attribution-ShareAlike 4.0 License that allows others to share the work with an acknowledgement of the work's authorship and initial publication in this journal