ANALISIS FINANSIAL PENGOLAHAN TEPUNG GANYONG PADA KELOMPOK TANI ANGGREK PUTIH, DESA HARAPAN MAKMUR KABUPATEN BENGKULU TENGAH
Sugiyati -

Yossie Yumiati
Abstract
Increased production of plant canna canna tubers into flour and processed back into the cake, would increase income for farmers' groups this White Orchid. The expected increase in revenue, attract writers to know more about the revenue from the sale of the processing plant at the farmers' group canna White Orchid Central Bengkulu. The research was carried out at Farmers Group White Orchid Central Bengkulu. Data obtained both primary data and secondary data, analyzed qualitatively and quantitatively. The data is then presented in the form of descriptive statistical tabulation and simple. Analysis is conducted revenue analysis, revenue and cost analysis ratios (R / C). Based on the research results, the average income in the first month in the group White Orchid Central Bengkulu District, specifically from the sale of plant canna bulbs and canna flour is Rp 1.128.562, so that the average amount of revenue on the farm KUB white orchid is Rp 5.300.000, - and the amount of the costs of Rp 4.171.438, -. With the results of the analysis showed that the ratio between revenue and cost of 1,27 is greater than 1, it means that any costs incurred amounted to Rp 1, - then the farmers will earn revenue of Rp 1,27, it indicates that the canna crop farming in the District Pondok Kubang Central Bengkulu profitable and feasible to be developed.
Keywords: Financial Analysis, canna, canna flour
Downloads
Download data is not yet available.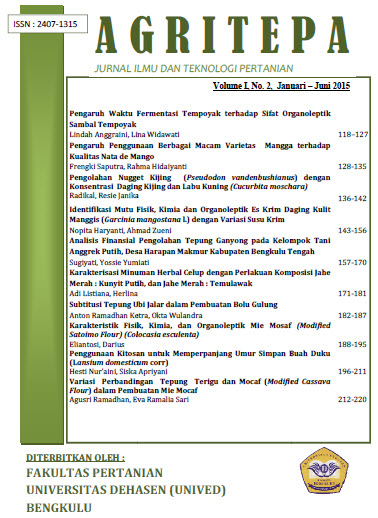 How to Cite
-, S., & Yumiati, Y. (2015). ANALISIS FINANSIAL PENGOLAHAN TEPUNG GANYONG PADA KELOMPOK TANI ANGGREK PUTIH, DESA HARAPAN MAKMUR KABUPATEN BENGKULU TENGAH. JURNAL AGRITEPA, 2(1). Retrieved from https://jurnal.unived.ac.id/index.php/agritepa/article/view/104
Section
Jurnal Penelitian