IDENTIFIKASI MUTU FISIK, KIMIA DAN ORGANOLEPTIK ES KRIM DAGING KULIT MANGGIS (Garcinia mangostana L.) DENGAN VARIASI SUSU KRIM
Nopita Haryanti

Ahmad Zueni
Abstract
Mangosteen is  a  fruit  that is  high  antioxidant content,  especially  on the  skin.  Meat mangosteen skin has a chance to develop into one product is ice cream. Ice cream is a kind of semi-solids with a mixture of milk, sugar, flavors and emulsifiers. This study aims to determine the quality (physical, chemical and organoleptic) ice cream mangosteen rind. Making ice cream in this study includes the preparation of the dough, mixing, shaking, cooking, packaging and freezing agitation. Variation of treatment in this study is mangosteen peel meat : milk cream (100 : 600, 150 : 550, 200 : 500, 250 : 450 and 300 : 400) grams per milliliter. The study design used was completely randomized design (CRD) with five treatments and three replications, if significantly different followed by DMRT. The  analysis  is  done  of  the  overrun  ,  melting  speed,  the  levels  of  antioxidants  and organoleptic (color, flavor and texture). Based on the analysis of physical and chemical quality of the research is on comparative treatment mangosteen peel 300 grams of meat and 400 milliliters of milk cream. While the results of the analysis of organoleptic quality in terms of color, taste and texture of the panelists preferred is the treatment of mangosteen peel 200 grams of meat and 500 grams of milk cream.
Keywords : Mangosteen Skin Meat, Milk Cream, Ice Cream
Downloads
Download data is not yet available.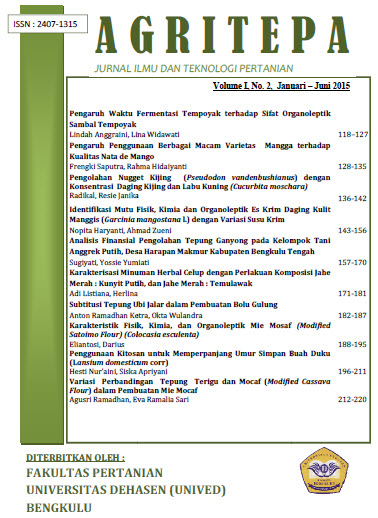 How to Cite
Haryanti, N., & Zueni, A. (2015). IDENTIFIKASI MUTU FISIK, KIMIA DAN ORGANOLEPTIK ES KRIM DAGING KULIT MANGGIS (Garcinia mangostana L.) DENGAN VARIASI SUSU KRIM. AGRITEPA: Jurnal Ilmu Dan Teknologi Pertanian, 2(1). https://doi.org/10.37676/agritepa.v2i1.103
Section
Article Reasearch
Author retains the copyright and grants the journal the right of first publication of the work simultaneously licensed under the Creative Commons Attribution-ShareAlike 4.0 License that allows others to share the work with an acknowledgement of the work's authorship and initial publication in this journal