ANALISIS MAKNA TATO SEBAGAI MEDIA EKSPRESI DIRI
RESTY AMANDA

SRI NARTI

BAYU RISDIYANTO
Abstract
The rise of the use of tattoos at this time is proof that the elements of cultural order and people'spattern of thought have changed especially in Bengkulu city. Tattoos ware once a sign of crime, but nows tattoos have become commonplace and even today tattoos have become a medium of art of self-expression that carries meanings of one's life journey. This study aims to determine self-expression and the meaning of tattoos as a medium of selfexpression in the tattoo userscommunity users in Bengkulu city. This research uses Charles Sanders Peirce theory and method of data analysis techniques (triangel meaning) which consists of signs, object (object), interpreters (interpretant). To convince the results of the analysis in this study, the authors chose several informants consisting of 5 informan namely 3 men and 2 women with different forms of tattoos. The results of this study prove that tattoos are symbolic art that can be a medium for someone to express themselves disappointed selfexpression, love, self-identity and others. Referring to the sign consists of qualisign that we can see in the tattoo of a rose-headed skull, the sinsignnamely tattoo scissors and a sewing machine and legisianis skull-headed pineapple tattoo. The second is an object consists of an icon that is the faces tattoo of the queens such as Queen DwiSiren, Queen Isabella I, then index the arrow tattoos and the tattoos of the faces of the two boys. Symbol is the queen's face figure tattoo and Doraemon and Tinkerbell cartoon characters. The third interpretant consists of rhemes, namely rose tattoos and then signedare tattoo scissors and sewing machines and the last argument is all the reasons why the informant made the tattoo. Tattoos on a person's body have meanings such as meaning of the expressions of love for two boys, a birthday presents for the wife, a form of affection for the mother, disappointed the be born in the midst of a broken home family, hope of having a life like a queen and others.
Keywords: tattoos, self-expression media, semiotic
Downloads
Download data is not yet available.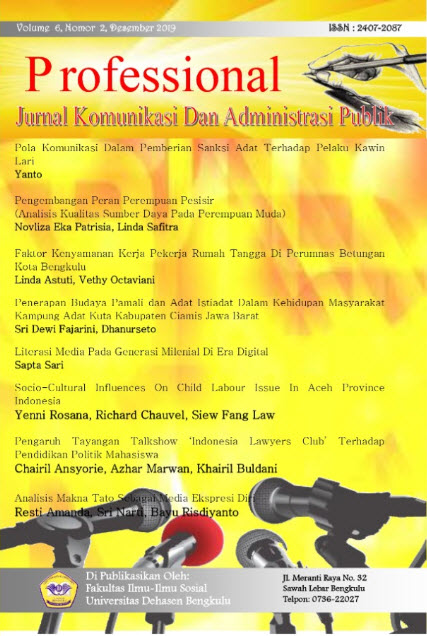 How to Cite
AMANDA, R., NARTI, S., & RISDIYANTO, B. (2019). ANALISIS MAKNA TATO SEBAGAI MEDIA EKSPRESI DIRI. Professional: Jurnal Komunikasi Dan Administrasi Publik, 6(2), 68-77. https://doi.org/10.37676/professional.v6i2.946