PENGARUH TAYANGAN TALKSHOW "INDONESIA LAWYERS CLUB" TERHADAP PENDIDIKAN POLITIK MAHASISWA
CHAIRIL ANSYORIE

AZHAR MARWAN

KHAIRIL BULDANI
Abstract
This study contains the effect of the Indonesian lawyers club talk showon student political education. This research uses purposivesampling with the criteria of Communication Studies University of Bengkulu Universityclass of 2015-2017 who watched the talk show "Indonesia LawyersClub ". Data collection in this study used a questionnaire and a studyliterature and other references relating to research problems.Data analysis in this study used simple regression analysiswith the result that Y = 10.215 + 0.881x with the coefficient of determination (R2)by 37%. The level of political education is influenced by Indonesian Lawyers' broadcastsClub by 37% and the remaining 63% is influenced by other variablesnot researched. Meanwhile t count 5.836> 2.00172 with a significant level0,000 <α = 0.05 (5%). Based on the statistical calculations obtained, thenThe hypothesis for this research is that there is an influence of the Indonesian talkshow programLawyers Club towards student political education. Then it means that Ha was acceptedand H0 is rejected. Based on the results of research analysis, it can be concludedthat the Indonesian lawyers club shows affect political educationcollege student.
Keywords: impressions of the indonesia lawyers club talkshow, political education
Downloads
Download data is not yet available.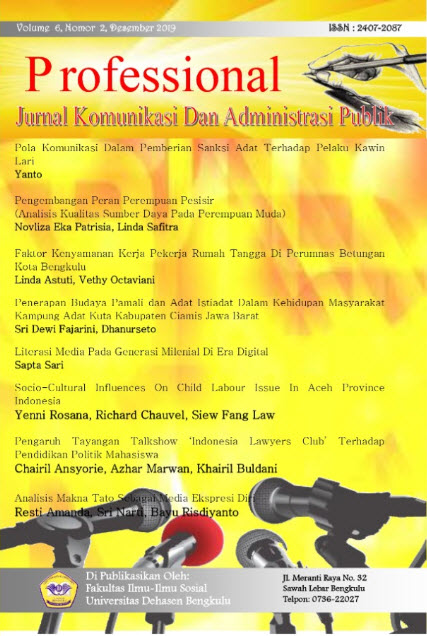 How to Cite
ANSYORIE, C., MARWAN, A., & BULDANI, K. (2019). PENGARUH TAYANGAN TALKSHOW "INDONESIA LAWYERS CLUB" TERHADAP PENDIDIKAN POLITIK MAHASISWA. Professional: Jurnal Komunikasi Dan Administrasi Publik, 6(2), 59-67. https://doi.org/10.37676/professional.v6i2.945