SOCIO-CULTURAL INFLUENCES ON CHILD LABOUR ISSUE IN ACEH PROVINCE INDONESIA
YENNI ROSANA

RICHARD CHAUVEL

SIEW FANG LAW
Abstract
This research investigates the socio-cultural meaning of child labour in Aceh Province, Indonesia. Child labour is illegal in Aceh. However, there is no enforcement of laws and regulations to prevent child labour from occurring and this daily phenomenon is escalating at an alarming rate. Furthermore, this research presents some complexities and paradoxes. While, the general assumption is that poverty is the main cause of child labour; however, this study found that children who are less poor are also working. Most of these children maintain their schooling while working. Consequently, some communities reject the impact of child labour on formal education. Many communities also see work as part of education, which teaches children responsibility, independence and self-esteem and/or pride, which represents the strong qualities of traditional Acehnese people, which has shaped the patterns and behaviours of children working in the region. The community's perspectives and other social polemics have continued the existence of child labour in Aceh. Therefore, Although it mights be not easy for the government to take actions, it is important to consider that the reduction of child labour programs in Aceh is not merely by strengthening the implementation of laws and regulations, but also requires the understanding of community values and attitudes around the issue.
Keywords: socio-cultural, Aceh, child labour, communities, education.
Downloads
Download data is not yet available.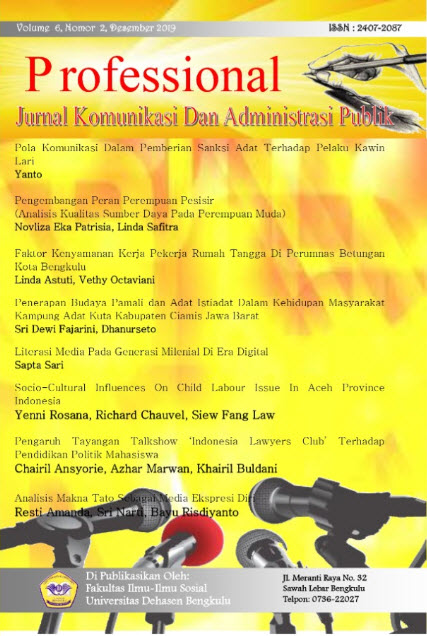 How to Cite
ROSANA, Y., CHAUVEL, R., & FANG LAW, S. (2019). SOCIO-CULTURAL INFLUENCES ON CHILD LABOUR ISSUE IN ACEH PROVINCE INDONESIA. Professional: Jurnal Komunikasi Dan Administrasi Publik, 6(2), 43-58. https://doi.org/10.37676/professional.v6i2.944