FAKTOR KENYAMANAN KERJA PEKERJA RUMAH TANGGA DI PERUMNAS BETUNGAN KOTA BENGKULU
LINDA ASTUTI

VETHY OCTAVIANI
Abstract
This study discusses the factors that determine the comfort of domestic workers in Bengkulu City's Betungan Housing. The aim to describe the behavior of the employer's family, wages, work activities and overview of social security to domestic workers working comfort. The research method used was a qualitative approach survey with data collection techniques of observation and interviews with informants of domestic workers residing in the RT. 12 PerumnasBetungan. The results obtained in the form of: (1) Employers in PerumnasBetungan have good behavior towards domestic workers, (2) The level of wages received by domestic workers in PerumnasBetungan is low between Rp. 500,000. up to Rp. 1,000,000, (3) Household activities carried out by domestic workers in PerumnasBetungan caring for children, cooking, washing, ironing and sweeping the house, (4) Social security received in the form of holiday bonuses, clothes and food.
Keywords: domestic workers, work comfort, worker activities.
Downloads
Download data is not yet available.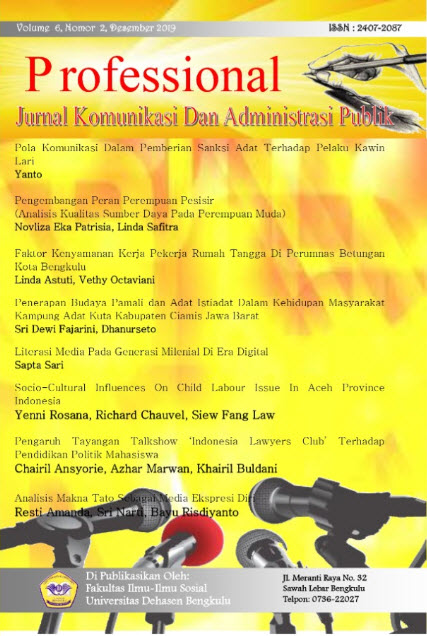 How to Cite
ASTUTI, L., & OCTAVIANI, V. (2019). FAKTOR KENYAMANAN KERJA PEKERJA RUMAH TANGGA DI PERUMNAS BETUNGAN KOTA BENGKULU. Professional: Jurnal Komunikasi Dan Administrasi Publik, 6(2), 18-22. https://doi.org/10.37676/professional.v6i2.941