PENGEMBANGAN PERAN PEREMPUAN PESISIR
NOVLIZA EKA PATRISIA

LINDA SAFITRA
Abstract
The phenomenon of coastal community life is always characterized by poverty and helplessness. The fishing community as a relatively dominant feature of the coastal community is often overwhelmed by unstable economic problems. This situation is very fantastic and contradictory, because the natural conditions that have the potential and abundant natural resources. The focus of this research is on the role of women who have a role as housewife and also as manager and marketing of catch fish from men. This study uses qualitative analysis which aims to reveal the problems that exist as detailed as possible on the condition of young coastal women with data collection techniques using observation, interview and documentation. The result of this research is the ability and role of young woman is still low, just as fish seller only without doing any recondition again also not accommodate potential area that can be cultivated become income source, impressed not creative managing potency, have pragmatic thinking and minimal skill and leads to consumptive behavior. Cultures and values built across generations of women emphasize the role of women in support of husbands but have not developed logical mechanization that creativity, knowledge and expertise are essential to building a prosperous family. The systems and networks of existing programs related to the development of women are numerous but have no coherence to the development goals and their usefulness. Here it is necessary to sharpen all systems and values so that dynamic changes are needed to change the existing conditions.

Keywords: culture, poverty, young women, value system.
Downloads
Download data is not yet available.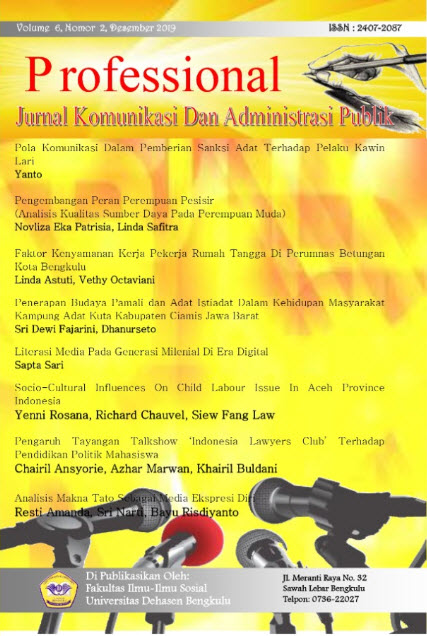 How to Cite
PATRISIA, N., & SAFITRA, L. (2019). PENGEMBANGAN PERAN PEREMPUAN PESISIR. Professional: Jurnal Komunikasi Dan Administrasi Publik, 6(2), 9-17. https://doi.org/10.37676/professional.v6i2.938