Kualitas Pelayanan Pengaduan Gangguan Jaringan Indihome di PT Telkom Akses Area Bengkulu
Romdana Romdana

Sekolah Tinggi Ilmu Administrasi Bengkulu
Abstract
PT. Telkom Access is a subsidiary of PT Telekomunikasi Indonesia engaged in the business of providing network infrastructure construction and management services that will encourage the growth of broadband access networks in Indonesia. PT. Telecommunications issued Indihome products that can provide easy access to the internet with trusted access speed, in its implementation Indhome products have various types of disturbances experienced by customers such as damaged modems, unable to browse, excessive network quality (Underspec), damage to Clouser tools or Aeriel (ODP LOSS) which causes the death of more than one customer network, and mass disruption, for that PT.Telkom Access Area Bengkulu must be able to improve the service complaints of Indihome network interference. This study uses a qualitative descriptive method and with data collection techniques through observation, interviews, and documentation. The aspects used in this study are based on Minister of Finance Decree Number 63 of 2003 and Good Corporate Governance namely certainty of time, discipline, politeness, and friendliness, transparency, and accountability. The results of this study are seen from the aspect of research, the certainty of time has not gone well because of the discrepancy between the promised time and reality when doing service. In the aspect of discipline, courtesy and friendliness show that PT Telkom has done a service with a polite, friendly attitude. The transparency aspect shows that it has not gone well because the official page cannot be used in matters of complaints, and the lack of openness in explaining the terms, procedures and costs. In the aspect of accountability, it is intended that the lack of awareness of employees in performing procedures in accordance with the regulations, and the services provided by PT. Telkom Access are correct, appropriate, and legitimate.
Downloads
Download data is not yet available.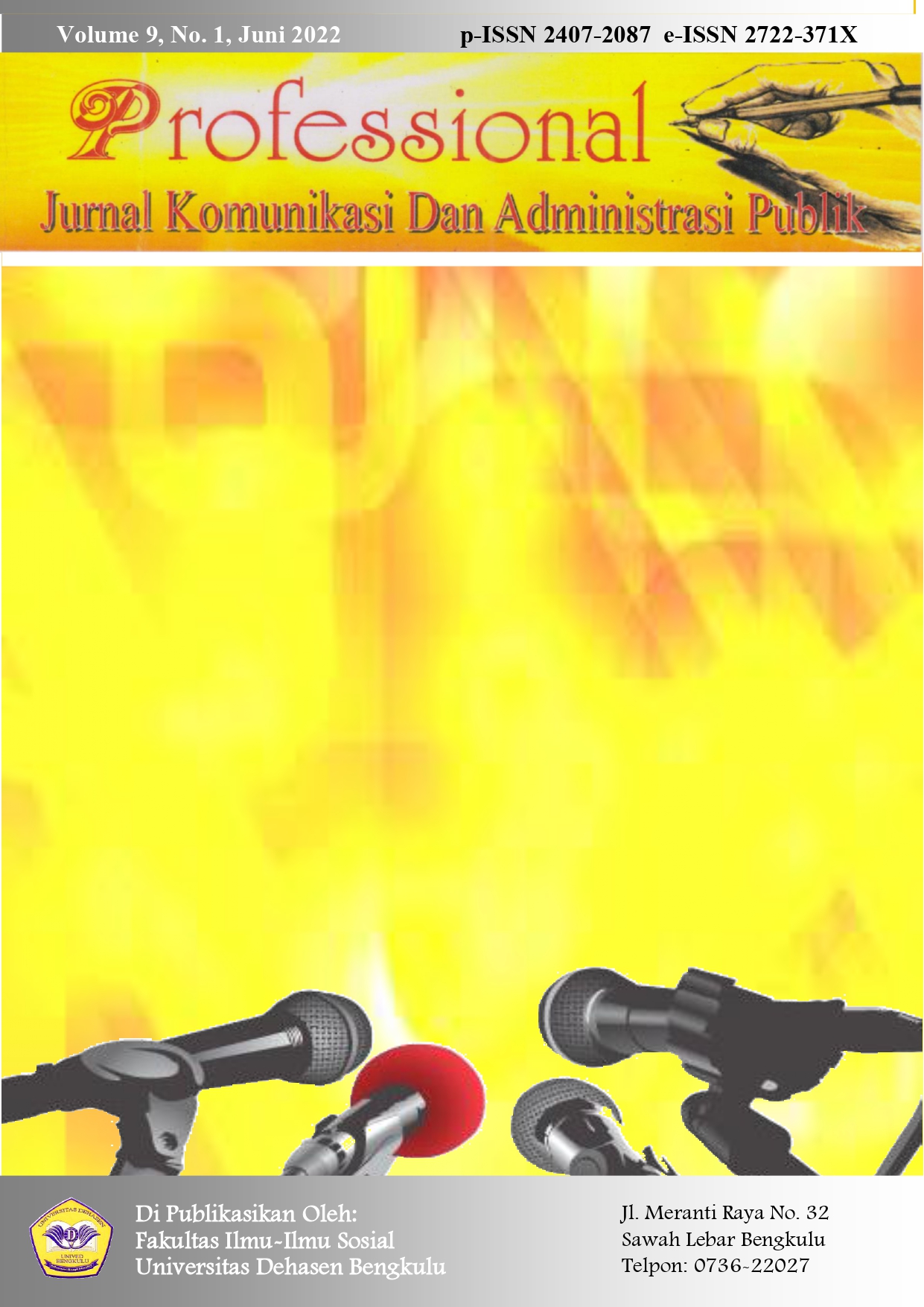 How to Cite
Romdana, R. (2022). Kualitas Pelayanan Pengaduan Gangguan Jaringan Indihome di PT Telkom Akses Area Bengkulu. Professional: Jurnal Komunikasi Dan Administrasi Publik, 9(1), 117–124. https://doi.org/10.37676/professional.v9i1.2556
Copyright (c) 2022 Romdana Romdana
This work is licensed under a Creative Commons Attribution-ShareAlike 4.0 International License.