Implementasi Program Pusat Kesejahteraan Sosial (PUSKESOS) di Kecamatan Warudoyong Kota Sukabumi
Trias Tri Syafalas

Program Studi Ilmu Administrasi Publik, Universitas Muhammadiyah Sukabumi

Ike Rachmawati

Program Studi Ilmu Administrasi Publik, Universitas Muhammadiyah Sukabumi

Tuah Nur

Program Studi Ilmu Administrasi Publik, Universitas Muhammadiyah Sukabumi
Abstract
Social welfare is an obligation that must be upheld by the state because in this case Law No. 11 of 2009 concerning Welfare has regulated it. This research focuses on how to implement a program called Puskesos in Warudoyong District, Sukabumi City from 2019-2021. This research begins with the discovery of problems such as not ideally implementing the Puskesos program in Warudoyong District in accordance with existing rules, namely general guidelines for implementing SLRT and PUSKESOS. The theory used to measure and determine how successful the Puskesos program is is the policy implementation theory written by Van Meter and Van Horn (1975). The method used in this research is qualitative with data collection with documentation, interviews and observations. The results of this study indicate that the implementation of the Puskesos program in Warudoyong District, Sukabumi City has not yet run optimally, when viewed from the stages and structure of the formation of the Puskesos that have not been appropriate and implemented, the lack of information from the relevant agencies, the budget that has not been realized. But in terms of human resources can be said to have been good.
Downloads
Download data is not yet available.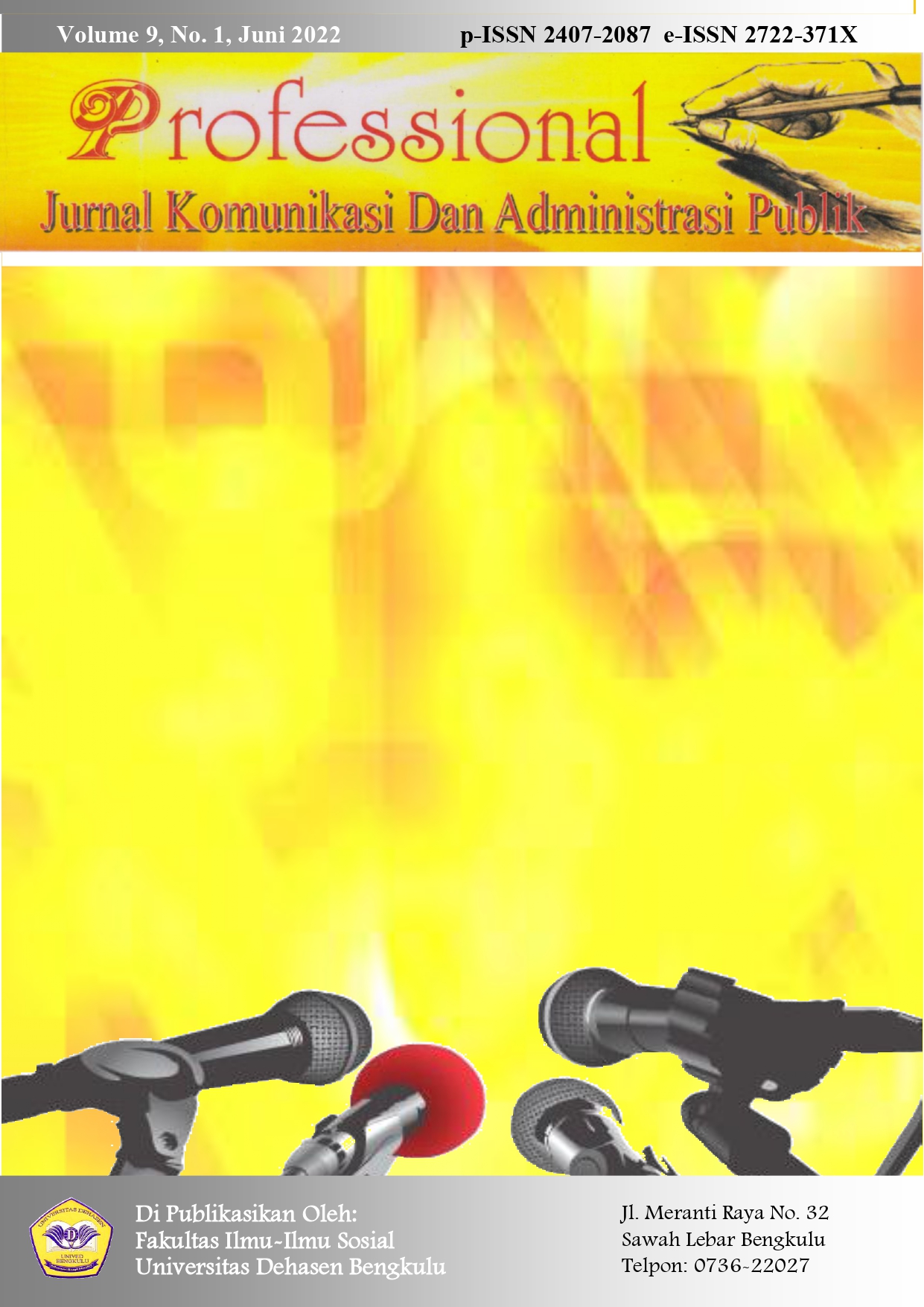 How to Cite
Syafalas, T., Rachmawati, I., & Nur, T. (2022). Implementasi Program Pusat Kesejahteraan Sosial (PUSKESOS) di Kecamatan Warudoyong Kota Sukabumi. Professional: Jurnal Komunikasi Dan Administrasi Publik, 9(1), 19 -. https://doi.org/10.37676/professional.v9i1.2342
Copyright (c) 2022 Trias Tri Syafalas, Ike Rachmawati, Tuah Nur
This work is licensed under a Creative Commons Attribution-ShareAlike 4.0 International License.