MAKNA INTERAKSI HOST DENGAN PENONTON SAAT LIVE STREAMING DI APLIKASI UPLIVE
Tesi Indriyani

Program Studi Desain Komunikasi Visual Fakultas Komunikasi dan Desain Universitas Adirajasa Reswara Sanjaya Bandung

Rita Herlina

Program Studi Desain Komunikasi Visual Fakultas Komunikasi dan Desain Universitas Adirajasa Reswara Sanjaya Bandung
Abstract
This research is motivated by the live streaming phenomenon which is currently widely used by social media users. The live streaming application that is now popular in Indonesia is Uplive. Uplive is one of the best applications that can easily broadcast live events or content as well as the opportunity to earn income by becoming a host or broadcaster on the application. During the live streaming, a host can interact with viewers via live chat in the Uplive application. The purpose of this study is that researchers want to know the meaning of interaction for hosts and viewers during live streaming on the Uplive application. The method used in this research is using qualitative research methods. This research data is in the form of data from interviews with the hosts of the Uplive application and the audience. The results of the study show that the interactions carried out when the host is broadcasting live are not only limited to commenting via live chat, but the audience can also give virtual gifts such as diamonds which can then be exchanged for money. Live streaming interaction for hosts on Uplive is very important because an interaction that exists between the host and viewer can increase user engagement with the host itself. In increasing user engagement, a host must have good communication skills and present good and quality impressions.
Keyword: application, host, interaction, live streaming, uplive, viewer
Downloads
Download data is not yet available.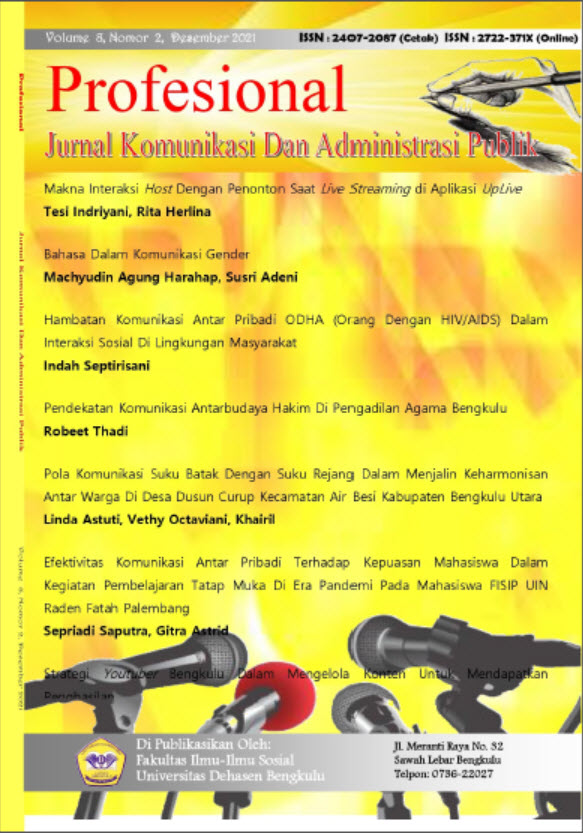 How to Cite
Indriyani, T., & Herlina, R. (2022). MAKNA INTERAKSI HOST DENGAN PENONTON SAAT LIVE STREAMING DI APLIKASI UPLIVE. Professional: Jurnal Komunikasi Dan Administrasi Publik, 8(2), 1-6. Retrieved from https://jurnal.unived.ac.id/index.php/prof/article/view/1856