PENGARUH PENGGUNAAN INTERNET TERHADAP PENGETAHUAN MAHASISWA TENTANG SISTEM INFORMASI AKADEMIK UNIVERSITAS DEHASEN BENGKULU (Studi Pada Mahasiswa Program Studi Ilmu Komunikasi Angkatan 2011-2013)
Nofi Afriansyah

Linda Astuti

Asnawati -
Abstract
This study aims to investigate the effect of Internet use on students' knowledge on the Academic Information System (portal Siakad) Dehasen University of Bengkulu. Academic Portal is an information system that serves as an integrator of academic information among academic units, including providing academic information services for students. Unfortunately, not all students are able to operate Internet. The presence of portal Siakad assumed encourage students to learn to use the internet. This research is a descriptive quantitative survey. Primary data were collected by distributing questionnaires to 51 respondents who are students of Communication Department year 2011 to 2013 by using stratified random sampling technique. At the stage of analysis, data were tested by inferential statistical with product moment correlation formula, while hypothesis were tested by using F t test. The results showed the effect of Internet use on students' knowledge on Academic Information System at Dehasen University of Bengkulu, so that the working hypothesis (HK) is received. It means that, the more often students use the Internet to access the portal Siakad, the higher the student's knowledge of academic information.
Keywords: Internet, Knowledge, Academic Information System
Downloads
Download data is not yet available.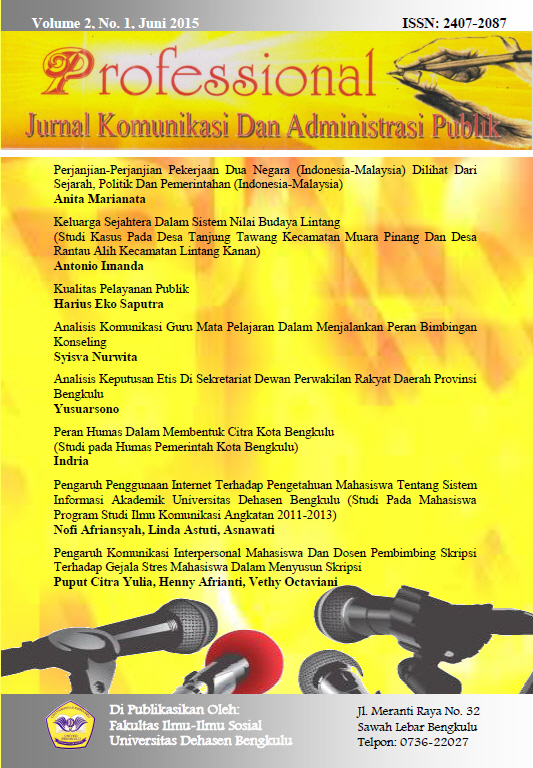 How to Cite
Afriansyah, N., Astuti, L., & -, A. (2016). PENGARUH PENGGUNAAN INTERNET TERHADAP PENGETAHUAN MAHASISWA TENTANG SISTEM INFORMASI AKADEMIK UNIVERSITAS DEHASEN BENGKULU (Studi Pada Mahasiswa Program Studi Ilmu Komunikasi Angkatan 2011-2013). Professional: Jurnal Komunikasi Dan Administrasi Publik, 2(1). https://doi.org/10.37676/professional.v2i1.167