ANALISIS KUALITAS KERJA PEGAWAI TATA USAHA SEKOLAH MENENGAH ATAS NEGERI 1 BENGKULU TENGAH
Arisa Arisanti

Program Studi Administrasi Publik Fakultas Ilmu-Ilmu Sosial Universitas Dehasen Bengkulu

Antonio Imanda

Program Studi Administrasi Publik Fakultas Ilmu-Ilmu Sosial Universitas Dehasen Bengkulu

Harius Eko Saputra

Program Studi Administrasi Publik Fakultas Ilmu-Ilmu Sosial Universitas Dehasen Bengkulu
Abstract
This study aims to find out the work quality of administrative Staff at SMAN 1of Central Bengkulu. This study uses a qualitative method. The data collection was donethrough observation, interview and documentation. The informants in this study amounted to 5 people, namely the headmaster, head of administration, teachers, administrative staff, and students. The results of this study show that the work quality of administrative staffat SMAN 1of Central Bengkulu is already good.Based on the interviews with the informants of administrative staff,the staff also have their own potential, optimal work results, work process and enthusiasm at work.
 Keywords: work quality, administration
Downloads
Download data is not yet available.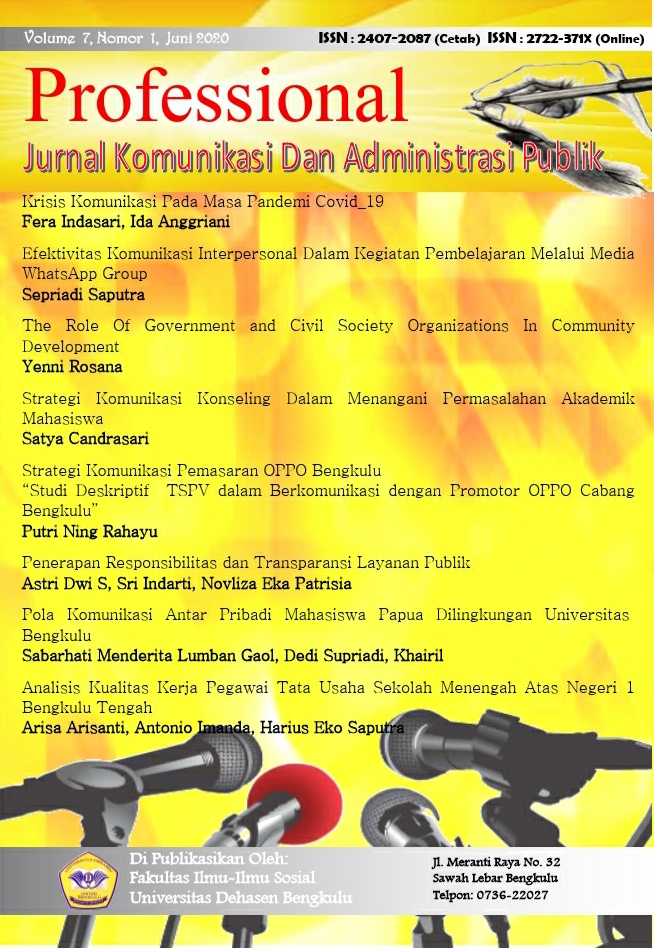 How to Cite
Arisanti, A., Imanda, A., & Saputra, H. (2020). ANALISIS KUALITAS KERJA PEGAWAI TATA USAHA SEKOLAH MENENGAH ATAS NEGERI 1 BENGKULU TENGAH. Professional: Jurnal Komunikasi Dan Administrasi Publik, 7(1), 57-63. https://doi.org/10.37676/professional.v7i1.1093