POLA KOMUNIKASI ANTAR PRIBADI MAHASISWA PAPUA DILINGKUNGAN UNIVERSITAS BENGKULU
Sabarhati Menderita Lumban Gaol

Program Studi Ilmu Komunikasi Fakultas Ilmu Sosial dan Ilmu Politik Universitas Bengkulu

Dedi Supriadi

Program Studi Ilmu Komunikasi Fakultas Ilmu Sosial dan Ilmu Politik Universitas Bengkulu

Khairil Khairil

Program Studi Ilmu Komunikasi Fakultas Ilmu Sosial dan Ilmu Politik Universitas Bengkulu
Abstract
This study aims to determine the interpersonal communication patterns of Papuan students who study at the  University  of  Bengkulu.  This study aims to explain more deeply the patterns of verbal and non- verbal communication between Papuan students through an in-depth interview process. The method used in this study  is a  qualitative descriptive method using De Vito's Theory (Humanistic Approach). The technique of collecting data is by conducting observations, in-depth interviews, and documentation. The results of this study indicate that Papuan students feel intimidated by the behavior they receive, this is the motive why Papuan students are rarely involved in social interaction and make distance between them and Bengkulu students, namely general distance because they feel insecure and uncomfortable when around Bengkulu students.
Keywords: communication patterns, interpersonal  communication, papuan students, de vito's theory, campus environment
Downloads
Download data is not yet available.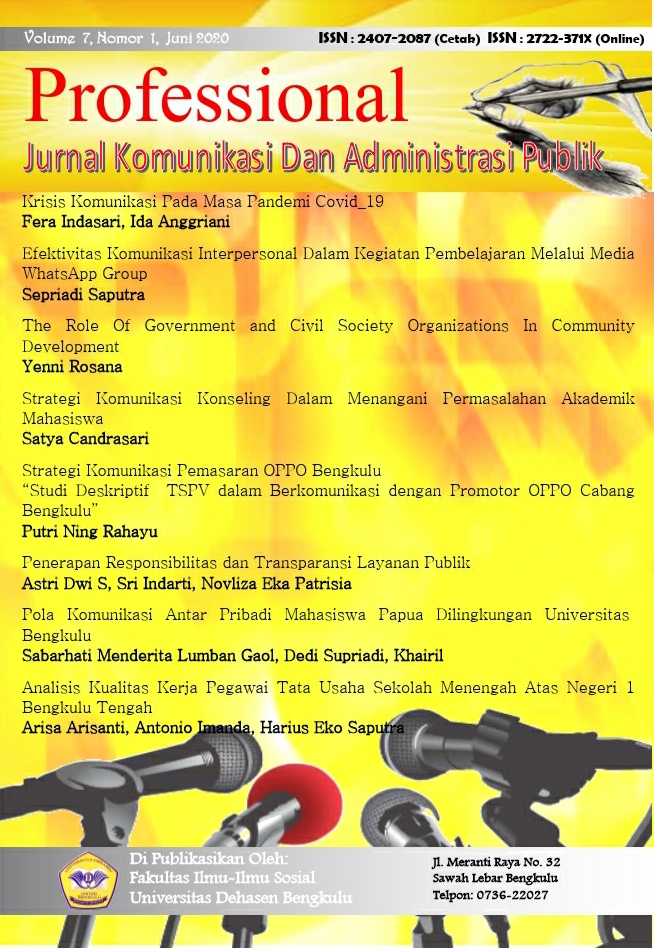 How to Cite
Gaol, S., Supriadi, D., & Khairil, K. (2020). POLA KOMUNIKASI ANTAR PRIBADI MAHASISWA PAPUA DILINGKUNGAN UNIVERSITAS BENGKULU. Profesional: Jurnal Komunikasi Dan Administrasi Publik, 7(1), 49-56. https://doi.org/10.37676/professional.v7i1.1092