THE ROLE OF GOVERNMENT AND CIVIL SOCIETY ORGANIZATIONS IN COMMUNITY DEVELOPMENT
Yenni Rosana

Universitas Dehasen Bengkulu
Abstract
The government plays an important role in ensuring the country's development.  Similarly, for a province; the government of a province should take actions to improve the quality of the province. However, besides the government there are the role of civil society organizations that could not be ignored. If the government and civil society organizations' perspectives are contradicting to each other, community will be living in ambiguous situation; there could be some of the community will choose to be in the civil society organizations' sides, or in support to the government. This essay will describe how the people in Aceh Province in Indonesia has experienced various challenge because of there were some contradictions between the government and certain civil society organizations. Therefore, it is necessary to have good cooperation between government and civil society organizations. Although the civil society organizations will act as oppositions or partners of government, but it should synergy with the main aims should be for the better life of the people; community development.
 Keywords: government, civil society organizations, community, development
Downloads
Download data is not yet available.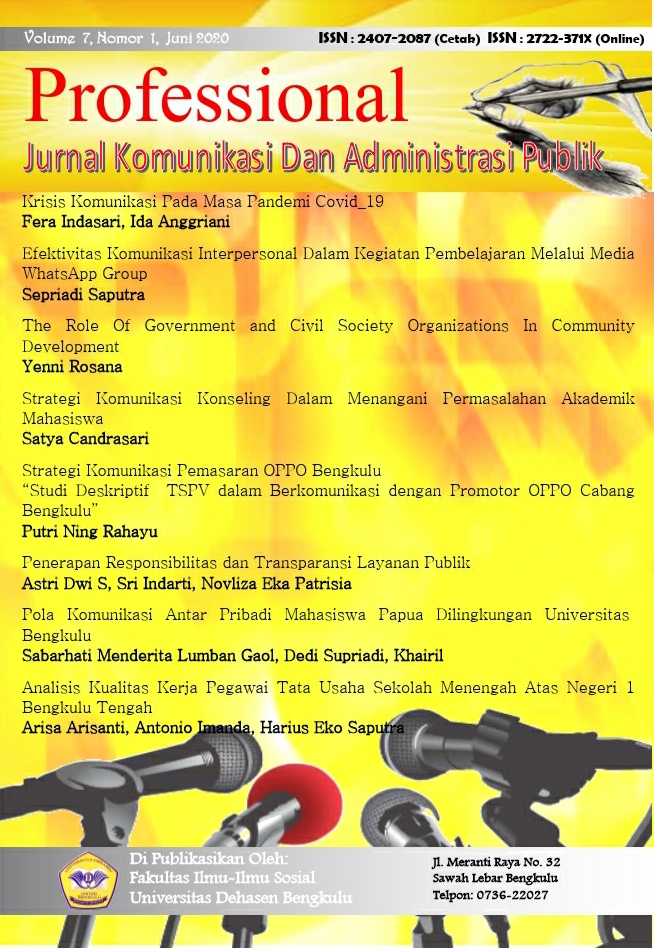 How to Cite
Rosana, Y. (2020). THE ROLE OF GOVERNMENT AND CIVIL SOCIETY ORGANIZATIONS IN COMMUNITY DEVELOPMENT. Profesional: Jurnal Komunikasi Dan Administrasi Publik, 7(1), 22-26. https://doi.org/10.37676/professional.v7i1.1088