Criminality in Movies (Analysis of Criminality Element in John Wick 2014 by Chad Stahelski)
Albertus Simamora

Universitas Dehasen Bengkulu

Anis Endang SM

Universitas Dehasen Bengkulu

Indria Indria

Universitas Dehasen Bengkulu
Keywords:
Masculinity, Film, Semiotics John Fiske Analysis
Abstract
Elements of crime in films can be found in scenes, story ideas or dialogues. The element of crime can trigger violence in the real world. The purpose of this research is to know and describe the meaning of crime as a learning medium to recognize and prevent criminal acts in the real world. The depiction of criminal elements is influenced by patriarchal ideology and extremism. This research is a qualitative research with John Fiske's semiotic analysis approach using The Codes Of Television theory. The results of this study indicate that the meaning of crime shown in the John Wick film displays and communicates four forms of crime, namely: shooting, killing, beating, and maltreating. The four forms of criminality are influenced by the ideology of masculinity and extremism. Masculinity is a cultural construction attached to men, extremism is a radical belief in a concept. The ideology of masculinity is constructed from the ideology of patriarchy and capitalism and the ideology of extremism is constructed from the ideology of fanaticism.
Downloads
Download data is not yet available.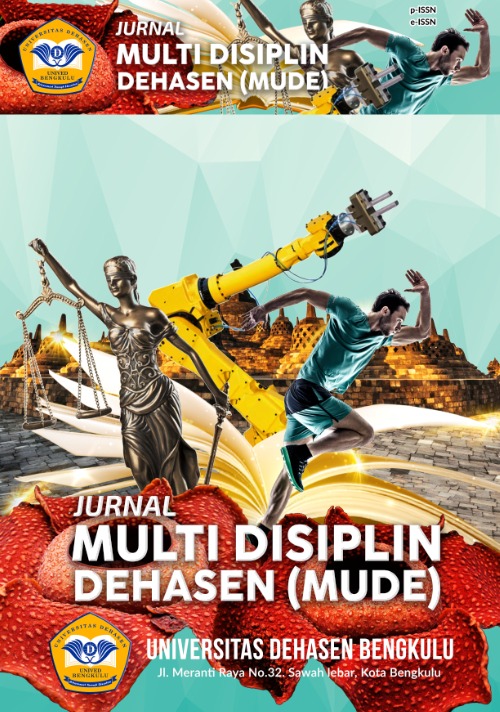 How to Cite
Simamora, A., SM, A., & Indria, I. (2023). Criminality in Movies (Analysis of Criminality Element in John Wick 2014 by Chad Stahelski). Jurnal Multidisiplin Dehasen (MUDE), 2(3), 567 -. https://doi.org/10.37676/mude.v2i3.4398
Copyright (c) 2023 Albertus Simamora, Anis Endang SM, Indria Indria
This work is licensed under a Creative Commons Attribution-ShareAlike 4.0 International License.