Pembelajaran Bahasa dan Sastra Berbasis Karakter pada Tingkat SMP
Mirayanti Mirayanti

Universitas Islam Negeri Sumatera Utara

Efrina Mora

Universitas Islam Negeri Sumatera Utara

Deby Audry

Universitas Islam Negeri Sumatera Utara
Keywords:
Learning, , Language And Literature, Character-Based
Abstract
Literature learning becomes a means of forming students' character. This is in accordance with the expectations of the 2013 curriculum which prioritizes aspects of attitude in the formation of students' character. Literary learning must prioritize character building by choosing literary works that contain positive values that can be internalized in students' personalities. Language as a communication tool is one of our means to formulate goals and objectives, when using language as a communication tool, we already have certain goals. As social beings who need other people, humans can use several ways to communicate, namely through verbal and non-verbal. Through language we can find out a person's personal reflection, point of view, origin of language and country, understanding, education, and a person's character or personality can be studied from the spoken language utterances. Character education with the Indonesian language learning process has a correlation with one another. The purpose of this study is to describe the role of language learning in character building of elementary school students. The results of this study are expected to provide a reference for elementary school teachers, especially lower grade teachers, to use language as a means of forming children's character. This research is a theoretical study using a qualitative descriptive method. The results of the study show that language learning in elementary schools, especially in lower grades, plays a major role in the formation of children's character, such as friendly character, courtesy, self-confidence, respect for others, nationalism, and mutual respect, both through mother tongue and Indonesian. as the national language.
Downloads
Download data is not yet available.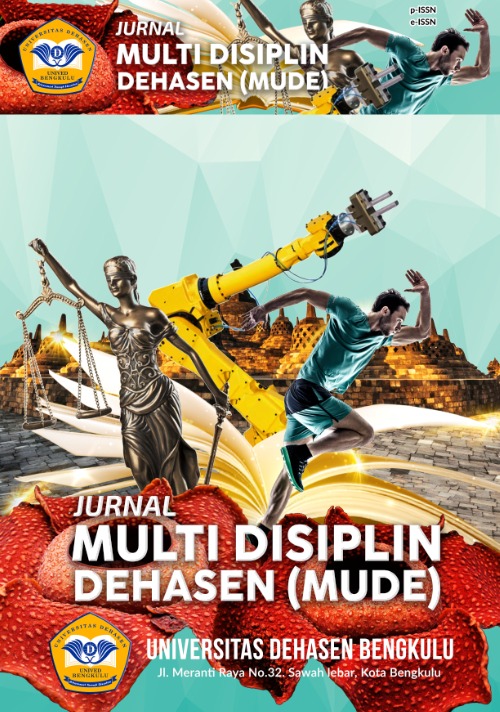 How to Cite
Mirayanti, M., Mora, E., & Audry, D. (2022). Pembelajaran Bahasa dan Sastra Berbasis Karakter pada Tingkat SMP. Jurnal Multidisiplin Dehasen (MUDE), 1(3), 393–398. https://doi.org/10.37676/mude.v1i3.2622
Copyright (c) 2022 Mirayanti Mirayanti, Efrina Mora, Deby Audry
This work is licensed under a Creative Commons Attribution-ShareAlike 4.0 International License.