Pembelajaran Membaca Berbasis Pendidikan Karakter
Tania Amara Br. Pakpahan

Universitas Islam Negeri Sumatera Utara

Almi Waina

Universitas Islam Negeri Sumatera Utara

Farhan Syaukani

Universitas Islam Negeri Sumatera Utara
Keywords:
Reading, Education, Character
Abstract
Character education has an essence whose purpose is to shape the child's personality so that he becomes a good human being, society and citizen. Reading is one of the important language skills in education, especially in elementary school. This is because reading skills are a means to learn other subjects. It is said that because learning anything always requires reading skills. Beginning reading is given in grades I and II of elementary school. Beginning reading learning begins with reading without books, then continues with reading using books. Beginning reading learning is carried out by integrating character values. In reading activities, a person must activate his mind to be able to identify language, understand it, and interpret its meaning so that the message from what we have read is clearly captured
Downloads
Download data is not yet available.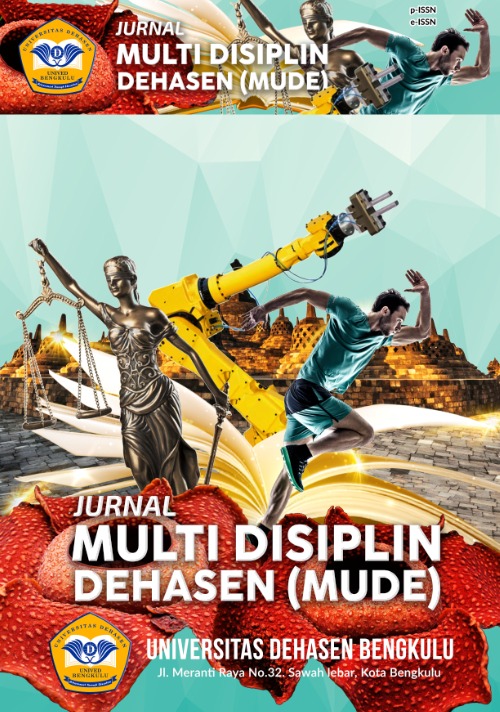 How to Cite
Pakpahan, T. A. B., Waina, A., & Syaukani, F. (2022). Pembelajaran Membaca Berbasis Pendidikan Karakter. Jurnal Multidisiplin Dehasen (MUDE), 1(3), 387–392. https://doi.org/10.37676/mude.v1i3.2621
Copyright (c) 2022 Tania Amara Br. Pakpahan, Almi Waina, Farhan Syaukani
This work is licensed under a Creative Commons Attribution-ShareAlike 4.0 International License.