Penilaian Otentik dalam Pembelajaran Bahasa dan Sastra yang Berorientasi pada Pendidikan Karakter
Ummi Khoiriah Hasibuan

Fakultas Ilmu Tarbiyah dan Keguruan, Universitas Islam Negeri Sumatera Utara

Annisa Rahimah Lubis

Fakultas Ilmu Tarbiyah dan Keguruan, Universitas Islam Negeri Sumatera Utara

Nopita Ramadhani

Fakultas Ilmu Tarbiyah dan Keguruan, Universitas Islam Negeri Sumatera Utara
Keywords:
Language, Character, Authentic Assessment, Literature
Abstract
The development of language and literature learning can be done through the use of three channels of character education implementation, namely through teaching materials, learning models, and authentic assessment. Authentic assessment provides a real picture of students' abilities in studying language and literature and provides a measure of the achievement of student character development. Based on this fact, the use of authentic assessment will contribute to the improvement of language and literary skills, understanding and character development of students. Based on the results of several studies, several conclusions can be drawn. First, in essence, language and literature are media for mental and intellectual enlightenment, the most important aspect of character education. Second, authentic assessment in language and literature that needs to be appreciated because it is important in character development. Third, language and literature learning that is relevant to character development is learning that allows students to develop awareness of reading and writing as an important prerequisite for character development.
Downloads
Download data is not yet available.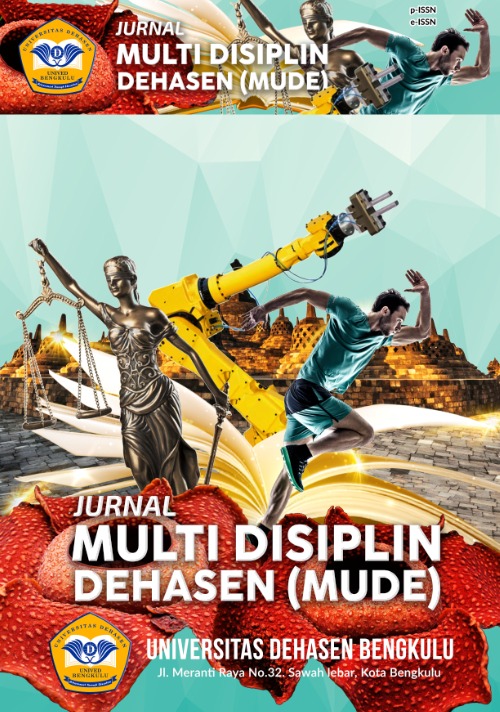 How to Cite
Hasibuan, U. K., Lubis, A. R., & Ramadhani, N. (2022). Penilaian Otentik dalam Pembelajaran Bahasa dan Sastra yang Berorientasi pada Pendidikan Karakter. Jurnal Multidisiplin Dehasen (MUDE), 1(3), 377–384. https://doi.org/10.37676/mude.v1i3.2619
Copyright (c) 2022 Ummi Khoiriah Hasibuan, Annisa Rahimah Lubis, Nopita Ramadhani
This work is licensed under a Creative Commons Attribution-ShareAlike 4.0 International License.