Dimensi-Dimensi Pembelajaran Bahasa
Siskawati Ziliwu

Pendidikan Madrasah Ibtidaiyah, Universitas Islam Negeri Sumatera Utara

Meilyani Meilyani

Pendidikan Madrasah Ibtidaiyah, Universitas Islam Negeri Sumatera Utara

Desi Rismayani Sinaga

Pendidikan Madrasah Ibtidaiyah, Universitas Islam Negeri Sumatera Utara

Wiryo Sastro Handoyo

Pendidikan Madrasah Ibtidaiyah, Universitas Islam Negeri Sumatera Utara
Keywords:
Dimensions of Learning, Language Learning Models and Implementation
Abstract
This article examines the dimensions of language learning in high grade MI (Madrasah Ibtidaiyah) children. Learning dimensions are an instructional framework that is comprehensive in nature to assist educators in planning learning experiences that will be presented to their students. inquiry, exploration, and problem investigation, students will be encouraged to learn through problem solving, both individually and in groups. The method used in this research is to explore studies related to this article, either in the form of research results or studies in other forms. The results of this article show an increase in the quality and language skills of high grade MI children through the implementation of the language learning dimensions model. This quality improvement makes educators and students productive, creative and accomplished..
Downloads
Download data is not yet available.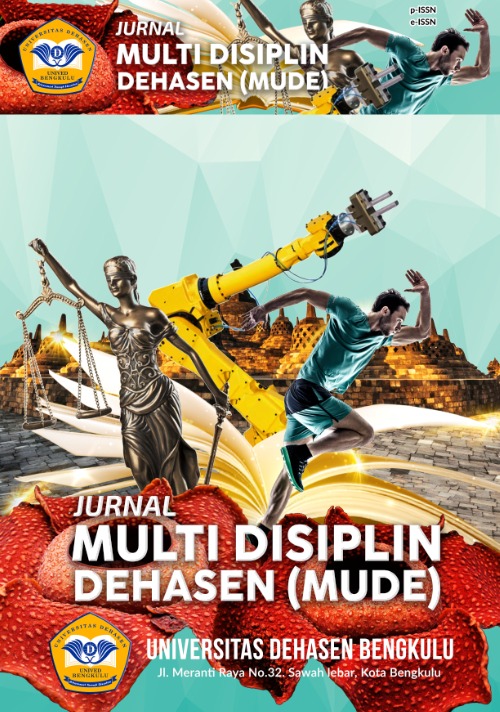 How to Cite
Ziliwu, S., Meilyani, M., Sinaga, D. R., & Handoyo, W. S. (2022). Dimensi-Dimensi Pembelajaran Bahasa. Jurnal Multidisiplin Dehasen (MUDE), 1(3), 349–354. https://doi.org/10.37676/mude.v1i3.2613
Copyright (c) 2022 Siskawati Ziliwu, Meilyani Meilyani, Desi Rismayani Sinaga, Wiryo Sastro Handoyo
This work is licensed under a Creative Commons Attribution-ShareAlike 4.0 International License.