Analisis Strategi Pemasaran dalam Penjualan Produk Kerupuk Gurita (Kuritos) di Desa Linau Kabupaten Kaur
Helmarini Helmarini

Universitas Muhammadiyah Bengkulu

Inda Gusmasari

Universitas Muhammadiyah Bengkulu
Keywords:
Marketing Strategy, In Sales of Kuritos Crackers
Abstract
The purpose of this study was to determine the Marketing Strategy in Sales of Crackers (Kuritos) Products in Linau Village, Kaur Regency. This type of research is descriptive qualitative. Data and Sources of Data, Primary Data includes data obtained directly by researchers without any intermediary, data obtained through interviews and direct observations to owners and employees of the Cracker Industry (Kuritos). The secondary data used are written sources such as the problem under study, namely the marketing strategy in selling Kuritos crackers. Collecting data using observation, interviews, documentation. Data analysis consists of data reduction, data presentation, drawing conclusions. Based on the research results obtained, namely (1) in terms of product marketing strategies are carried out by improving product quality, making innovations such as a more attractive packaging appearance. (2) In terms of price, the marketing strategy is to provide discounted prices and observe market conditions. (3) In terms of promotion of marketing strategies carried out through word of mouth and publications delivered through mass media such as (Whatsapp, Facebook, Instagram) (4) In terms of distribution channels, which are carried out by utilizing more strategic locations, such as placing souvenirs in the center and tourist attractions and also collaborate with distributors.
Downloads
Download data is not yet available.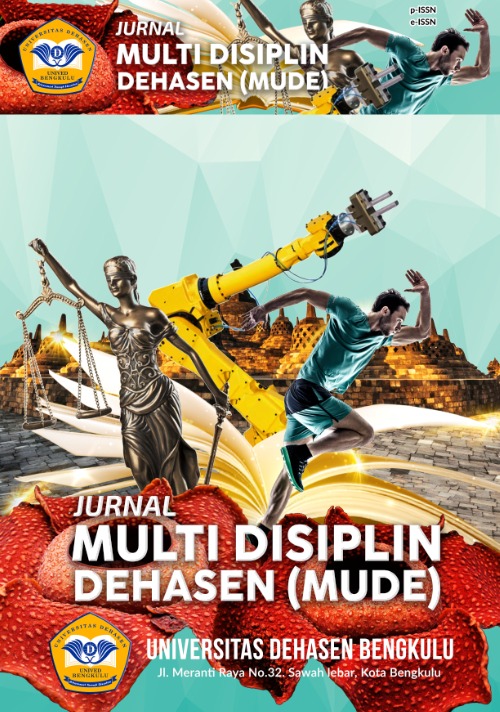 How to Cite
Helmarini, H., & Gusmasari, I. (2022). Analisis Strategi Pemasaran dalam Penjualan Produk Kerupuk Gurita (Kuritos) di Desa Linau Kabupaten Kaur. Jurnal Multidisiplin Dehasen (MUDE), 1(3), 295-. https://doi.org/10.37676/mude.v1i3.2551
Copyright (c) 2022 Helmarini Helmarini, Inda Gusmasari
This work is licensed under a Creative Commons Attribution-ShareAlike 4.0 International License.