Implementasi Aplikasi Tik-Tok Sebagai Media Pembelajaran Bahasa Indonesia
Sania Oktavia Nasution

Study Program of English Language Study, North Sumatera State Islamic University

Siti Sholikhah

Study Program of English Language Study, North Sumatera State Islamic University

Najwa Najwa

Study Program of English Language Study, North Sumatera State Islamic University

Al-Zuhda Sitorus

Study Program of English Language Study, North Sumatera State Islamic University

Rahmi Pitriyani

Study Program of English Language Study, North Sumatera State Islamic University

Edy Syaputra

Faculty of Tarbiyah and Teacher Training, North Sumatera State Islamic University
Keywords:
Indonesian Language, Medium, Learning, Tiktok
Abstract
The aim of this research is to describe the use of the Tik-Tok application as a means of learning Indonesian. In conducting research, applying qualitative descriptive., where the results of the research are indirect observations of the research subject used is the Tik Tok application as a medium for learning Indonesian language by utilizing several supporting features in the Indonesian language learning process. The results will be described in points according to the main elements in learning Indonesian. This research was conducted with several important points made by educators and students in the process of learning Indonesian. The description is carried out with the subject of the tik-tok application. In the use of the tik-tok application, several features were found that can be used as learning media. The data accumulation applies the observation method and description analysis with document instruments. Data analysis was carried out with a reduction stage, exposure and then conclusions were drawn. The results of the study prove that the Tik Tok application if used properly can have benefits as a medium in learning Indonesian. The data analysis was carried out focusing on the implementation of tik-tok as an internet-based Indonesian language learning medium and could be evaluated comprehensively and continuously. The use of applications that are relatively easy to understand so that they can be applied in learning Indonesian. This study proves that the tik-tok application can assist students in testing skills in learning Indonesian. The results show significantly that the tik-tok application can be an attractive learning medium for students and flexible learning can be carried out while still paying attention to the main points in Indonesian. The conclusion of this study is that the tik-tok application that is used properly can be used as a more interactive and efficient Indonesian language learning medium.
Downloads
Download data is not yet available.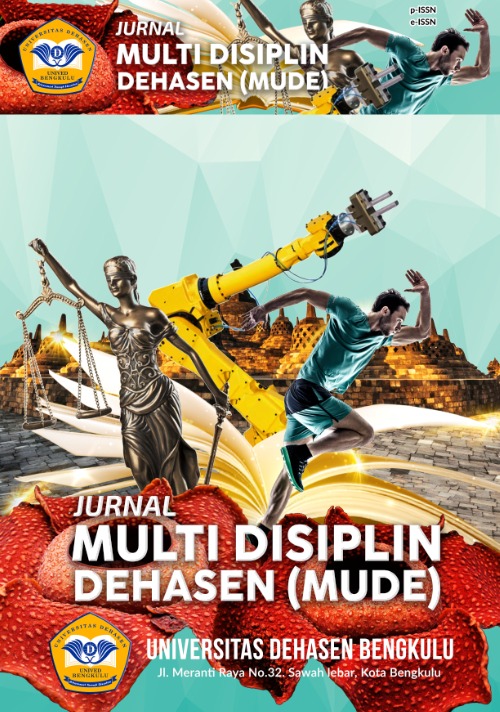 How to Cite
Nasution, S. O., Sholikhah, S., Najwa, N., Sitorus, A.-Z., Pitriyani, R., & Syaputra, E. (2022). Implementasi Aplikasi Tik-Tok Sebagai Media Pembelajaran Bahasa Indonesia. Jurnal Multidisiplin Dehasen (MUDE), 1(3), 259–264. https://doi.org/10.37676/mude.v1i3.2524
Copyright (c) 2022 Sania Oktavia Nasution, Siti Sholikhah, Najwa Najwa, Al-Zuhda Sitorus, Rahmi Pitriyani, Edy Syaputra
This work is licensed under a Creative Commons Attribution-ShareAlike 4.0 International License.