Analisis Kesiapan Pengenalan Lapangan Persekolahan (PLP II) Angkatan 2018 Pada Mahasiswa Prodi Pen-didikan Ekonomi FKIP Universitas Muhammadyah Bengkulu
Meirani Meirani

Universitas Muhammadiyah Bengkulu

Winnda Prawati

Universitas Muhammadiyah Bengkulu
Keywords:
Introduction, School Field (PLP II)
Abstract
This study aims to determine the readiness of students in carrying out the Introduction to the School Field (PLP II) in the Economic Education Study Program, FKIP University, Bengkulu. This type of research is descriptive research. The subject-taking technique used in this research is Systematic Sampling. The subjects taken were 10 students of the 2018 class who had carried out the School Field Introduction (PLP II). Research data collection techniques were based on observations, interviews and documentation. Research data analysis techniques with data collection (data reduction), data presentation (display) data), draw conclusions (data conclusion). Readiness of students in carrying out the Introduction to the School Field (PLP II) Good enough where the results obtained from the readiness of students in managing class students have used learning media to support teaching and learning activities. Students' readiness in developing the syllabus students have understood the syllabus and adapted the material to the syllabus. Student readiness Learning Implementation Plan (RPP) All students have prepared RPP which will be used as guidelines and steps during the Teaching and Learning Activities (KBM) and Teaching and Learning Activities (KBM) processes are adjusted to the RPP. The readiness of students to understand the characteristics of students by paying attention to active and passive students and taking a different approach from active and passive students.
Downloads
Download data is not yet available.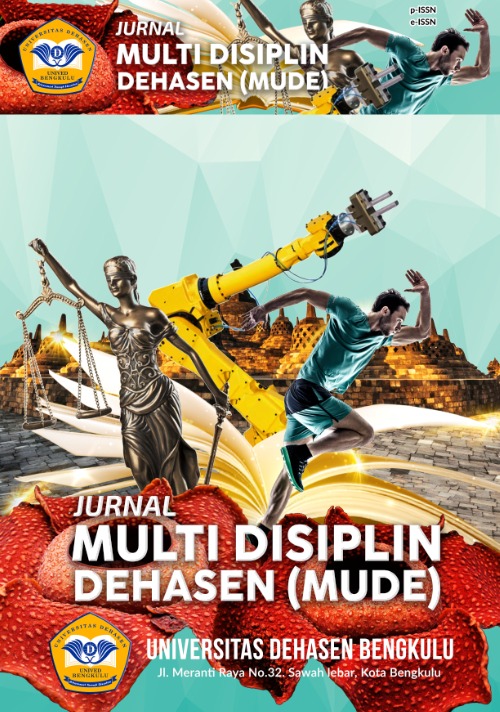 How to Cite
Meirani, M., & Prawati, W. (2022). Analisis Kesiapan Pengenalan Lapangan Persekolahan (PLP II) Angkatan 2018 Pada Mahasiswa Prodi Pen-didikan Ekonomi FKIP Universitas Muhammadyah Bengkulu. Jurnal Multidisiplin Dehasen (MUDE), 1(3), 239-. https://doi.org/10.37676/mude.v1i3.2514
Copyright (c) 2022 Meirani Meirani, Winnda Prawati
This work is licensed under a Creative Commons Attribution-ShareAlike 4.0 International License.