Perilaku Kebiasaan Sarapan Siswa Kelas VIII Madrasah Tsanawiyah Miftahussalam, Kota Medan, Sumatera Utara
Nasya Cantika Chairani

Program Studi S1 Kesehatan Masyarakat, Fakultas Kesehatan Masyarakat, Universitas Islam Negeri Sumatera Utara

Nelly Revita Lubis

Program Studi S1 Kesehatan Masyarakat, Fakultas Kesehatan Masyarakat, Universitas Islam Negeri Sumatera Utara

Intan Sadillah

Program Studi S1 Kesehatan Masyarakat, Fakultas Kesehatan Masyarakat, Universitas Islam Negeri Sumatera Utara

Rizky Wahyuni Chaniago

Program Studi S1 Kesehatan Masyarakat, Fakultas Kesehatan Masyarakat, Universitas Islam Negeri Sumatera Utara

Mardiah Batubara

Program Studi S1 Kesehatan Masyarakat, Fakultas Kesehatan Masyarakat, Universitas Islam Negeri Sumatera Utara
Keywords:
Breakfast Habit, Breakfast, Food, Students
Abstract
Breakfast is something that is often taken for granted, even though skipping breakfast can have a negative impact on students' concentration levels at school. Breakfast is the best energy supply for the brain so that it can concentrate at school. This study aims to study the breakfast habits of the students of Madrasah Tsanawiyah Miftahussalam. The voting method through a questionnaire was used with the subject of 30 students aged 12-14 years from Madrasah Tsanawiyah Miftahussalam, Medan City. Breakfast consumption was collected by filling out the answers through a questionnaire. The results showed that 83% of students had breakfast habits since childhood. All subjects presented defined breakfast as eating in the morning and breakfast habits. The rest of the subjects explained that breakfast was very beneficial, consisting of solid food and drinks, and moderate portions. Good food at breakfast is milk, bread and fruit. Parents should prepare food for breakfast and have breakfast done at home before starting activities outside the home. Students with good breakfast quality category consumed rice, bread, fruit, and milk, while those with poor breakfast quality drank more sweet tea and snacks.
Downloads
Download data is not yet available.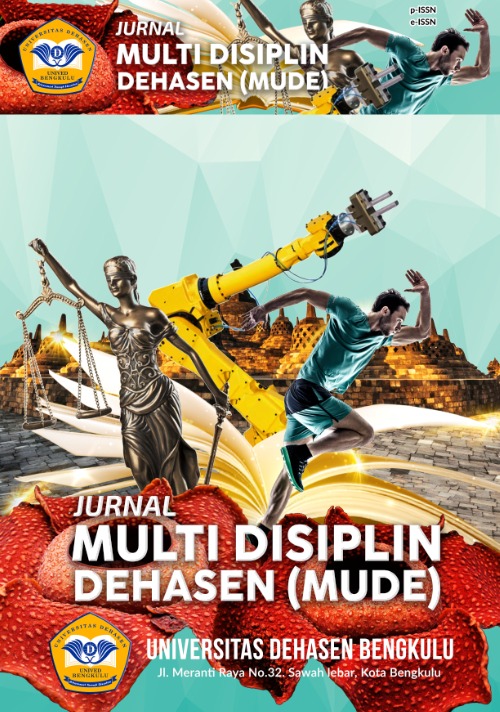 How to Cite
Chairani, N., Lubis, N. R., Sadillah, I., Chaniago, R. W., & Batubara, M. (2022). Perilaku Kebiasaan Sarapan Siswa Kelas VIII Madrasah Tsanawiyah Miftahussalam, Kota Medan, Sumatera Utara. Jurnal Multidisiplin Dehasen (MUDE), 1(3), 203-. https://doi.org/10.37676/mude.v1i3.2510
Copyright (c) 2022 Nasya Cantika Chairani, Nelly Revita Lubis, Intan Sadillah, Rizky Wahyuni Chaniago, Mardiah Batubara
This work is licensed under a Creative Commons Attribution-ShareAlike 4.0 International License.