Analisis Pengambilan Keputusan Memilih Masuk Program Studi Pendidikan Ekonomi di Fakultas Keguruan dan Ilmu Pendidikan Universitas Muhammadiyah Bengkulu
Hilyati Milla

Universitas Muhammadiyah Bengkulu

Dinda Febriola

Universitas Muhammadiyah Bengkulu
Keywords:
Decision Making, Study Program
Abstract
This study aims to: Determine the student's decision to choose the Economics Education Study Program, Faculty of Teacher Training and Education, University of Muhammadiyah Bengkulu. This Research Type is Qualitative Research. Data collection techniques using observation, interviews and documentation. The data analysis technique uses data collection, data reduction, data presentation, and data verification. The results of the study, namely the decision making to choose to enter the Economic Education Study Program in terms of the indicators of decision making in choosing the study program: The purpose of the 2020 students entering the economic education study program is not only to become professional teachers but also to be able to work as entrepreneurs, businessmen and bank employees. . Collecting information Economic education students get information from various aspects, for example from the surrounding environment, and from UMB brochures or advertisements. Interests of students choosing to enter the Economics Education Study program according to their own wishes and get support from their parents, siblings, etc. The best choice for students is that the Economics Education study program is the right choice of alternative majors to continue in higher education because it has broad job prospects. And Statisfaction students assess that the Bengkulu Bengkulu Muhammadiyah University has the facilities, infrastructure, lecturers and supports students to get satisfactory grades.
Downloads
Download data is not yet available.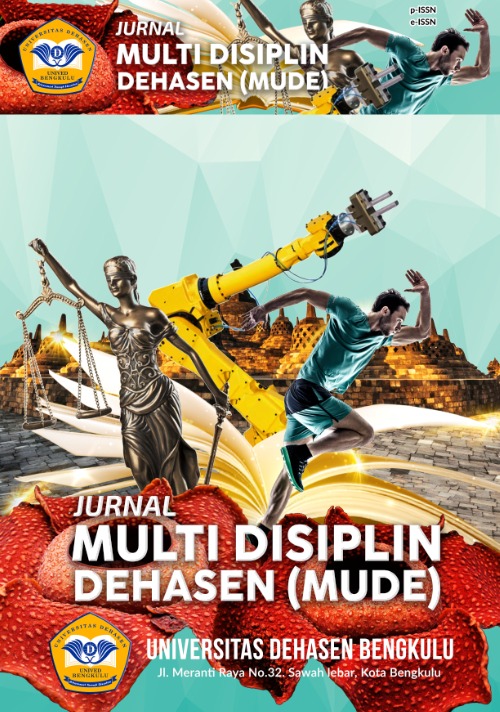 How to Cite
Milla, H., & Febriola, D. (2022). Analisis Pengambilan Keputusan Memilih Masuk Program Studi Pendidikan Ekonomi di Fakultas Keguruan dan Ilmu Pendidikan Universitas Muhammadiyah Bengkulu. Jurnal Multidisiplin Dehasen (MUDE), 1(3), 149–158. https://doi.org/10.37676/mude.v1i3.2493
Copyright (c) 2022 Hilyati Milla, Dinda Febriola
This work is licensed under a Creative Commons Attribution-ShareAlike 4.0 International License.