DETERMINAN FAKTOR KEJADIAN KOMPLIKASI PADA PENDERITA DIABETES MELITUS DI KOTA BENGKULU TAHUN 2021
HERU LAKSONO

JURUSAN ANALIS KESEHATAN, POLTEKKES KEMENKES BENGKULU

HENDRI HERIYANTO

JURUSAN KEPERAWATAN, POLTEKKES KEMENKES BENGKULU

RISMA APRIANI

BAPELKES PROVINSI BENGKULU
Keywords:
Diabetes Melitus, Komplikasi
Abstract
Latar Belakang: Komplikasi didefinisikan sebagai kondisi kronis yang memunculkan dua atau lebih penyakit, dengan salah satu penyakit tidak selalu lebih sentral daripada yang lain. Komplikasi dapat mempengaruhi kualitas hidup, kemampuan untuk bekerja, kecacatan dan kematian. Diabetes melitus merupakan salah satu penyakit kronis yang dapat meningkatkan dengan cepat prevalensi komplikasi pada penderitanya, bahkan kematian penyandang diabetes melitus tidak jarang disebabkan oleh komplikasi. Prevalensi diabetes melitus yang terdiagnosis pada penduduk usia di atas 65 tahun menurut data Riskesdas tahun 2007 adalah 4,6%. Diabetes melitus pada lansia seringkali tidak disadari karena gejala-gejala diabetes seperti sering haus, sering berkemih, dan penurunan berat badan tersamarkan akibat perubahan fisik alamiah lansia yang mengalami penurunan, sehingga diabetes yang tidak terdiagnosis ini akan terus berkembang menjadi komplikasi yang dapat berakibat fatal. Metode: Penelitian ini merupakan penelitian observasional analitik dengan menggunakan desain studi cross sectional yaitu penelitian yang melakukan pengukuran variabel dependen dan independen secara bersamaan (potong lintang) pada populasi penderita Diabetes Melitus yang terdata di Puskesmas dalam wilayah Kota Bengkulu pada tahun 2020 yang berjumlah 2.109 penderita. Hasil dan Pembahasan: Hasil analisis multivariat menunjukkan adanya hubungan antara variabel lama sakit (OR=2,770; 95% CI=1,300-5,904), diit (OR=2,770; 95% CI=1,300-5,904) dan keteraturan minum obat (OR=2,770; 95% CI=1,300-5,904) dengan kejadian komplikasi Diabetes Melitus. Kesimpulan: hasil penelitian ini menunjukan bahwa Prevalensi kejadian komplikasi DM di Kota Bengkulu tahun 2021 adalah sebesar 48 % yang mana memiliki hubungan erat dengan kebiaasaan diit, lama sakit, dan keteraturan minum obat.
Downloads
Download data is not yet available.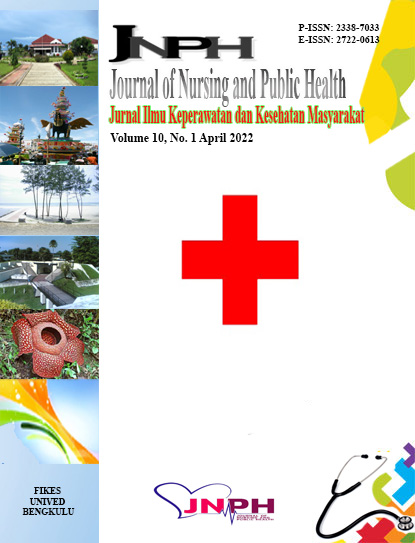 How to Cite
LAKSONO, H., HERIYANTO, H., & APRIANI, R. (2022). DETERMINAN FAKTOR KEJADIAN KOMPLIKASI PADA PENDERITA DIABETES MELITUS DI KOTA BENGKULU TAHUN 2021. Journal of Nursing and Public Health, 10(1), 68-78. https://doi.org/10.37676/jnph.v10i1.2368
An author who publishes in the Journal of Nursing and Public Health agrees to the following terms:
Author retains the copyright and grants the journal the right of first publication of the work simultaneously licensed under the Creative Commons Attribution-ShareAlike 4.0 License that allows others to share the work with an acknowledgement of the work's authorship and initial publication in this journal
Submission of a manuscript implies that the submitted work has not been published before (except as part of a thesis or report, or abstract); that it is not under consideration for publication elsewhere; that its publication has been approved by all co-authors. If and when the manuscript is accepted for publication, the author(s) still hold the copyright and retain publishing rights without restrictions. For the new invention, authors are suggested to manage its patent before published. The license type is CC-BY-SA 4.0.
Journal of Nursing and Public Health is licensed under a Creative Commons Attribution-ShareAlike 4.0 International License.
You are free to:
Share — copy and redistribute the material in any medium or format
Adapt — remix, transform, and build upon the material
for any purpose, even commercially.
The licensor cannot revoke these freedoms as long as you follow the license terms.