GAMBARAN KADAR GLUKOSA DARAH SEWAKTU PADA PENJUAL NASI GORENG DI KECAMATAN SINGARAN PATI KOTA BENGKULU TAHUN 2020
FITRI RAASYIDAH

HERU LAKSONO

NADIA PUDIARIFANTI

SURYANTI SURYANTI
Keywords:
Diabetes Mellitus tipe 2, Penjual Nasi Goreng, Glukosa Darah Sewaktu
Abstract
Penjual nasi goreng merupakan salah satu profesi yang mempunyai waktu tidur yang kurang dikarenakan aktifitasnya di malam hari. Dengan aktifitas berjualannya rata- rata dari jam 17.00 s/d 03.00 membuat penjual tidak beristirahat pada malam hari dan merasa lelah sehingga waktu tidurnya berkurang. Di kota Bengkulu pada umumnya penjual nasi goreng bekerja hingga larut malam, sehingga rentan terhadap peningkatan gula darah, yang dapat berlanjut menjadi diabetes mellitus tipe 2. Normalnya kadar glukosa darah sewaktu yaitu kurang dari 200 mg/dL. Kadar glukosa darah yang tinggi dalam tubuh menandakan penyakit Diabetes Mellitus. Tujuan dari penelitian ini diketahui Gambaran Kadar Glukosa Darah Sewaktu pada Penjual Nasi Goreng di Kecamatan Singaran Pati Kota Bengkulu Tahun 2019. Jenis Penelitian ini yang digunakan deskriptif, yaitu penelitian yang dilakukan untuk menggambarkan suatu phenomena yang terjadi di kalangan masyarakat. Populasi dalam penelitian ini adalah penjual nasi goreng di kecamatan singaran pati kota Bengkulu. Teknik pengumpulan data yang digunakan pada calon responden dalam penelitian dan peneliti melakukan wawancara yang meliputi identitas responden. Didapatkan hasil kadar glukosa normal sebanyak 34 responden (97,2%) dan 1 responden (2,8%) kadar glukosanya abnormal. Maka dapat disimpulkan bahwa hasil kadar glukosa hampir seluruh responden yaitu normal dengan jumlah 34 orang (97,2%) dan sebagian kecil responden abnormal dengan jumlah 1 orang (2,8%).
Downloads
Download data is not yet available.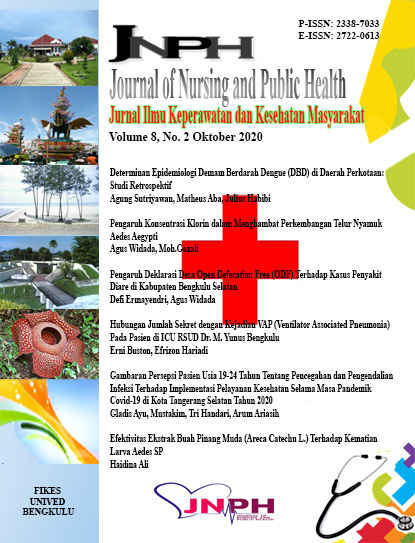 How to Cite
RAASYIDAH, F., LAKSONO, H., PUDIARIFANTI, N., & SURYANTI, S. (2020). GAMBARAN KADAR GLUKOSA DARAH SEWAKTU PADA PENJUAL NASI GORENG DI KECAMATAN SINGARAN PATI KOTA BENGKULU TAHUN 2020. Journal of Nursing and Public Health, 8(2), 46-52. https://doi.org/10.37676/jnph.v8i2.1185
An author who publishes in the Journal of Nursing and Public Health agrees to the following terms:
Author retains the copyright and grants the journal the right of first publication of the work simultaneously licensed under the Creative Commons Attribution-ShareAlike 4.0 License that allows others to share the work with an acknowledgement of the work's authorship and initial publication in this journal
Submission of a manuscript implies that the submitted work has not been published before (except as part of a thesis or report, or abstract); that it is not under consideration for publication elsewhere; that its publication has been approved by all co-authors. If and when the manuscript is accepted for publication, the author(s) still hold the copyright and retain publishing rights without restrictions. For the new invention, authors are suggested to manage its patent before published. The license type is CC-BY-SA 4.0.
Journal of Nursing and Public Health is licensed under a Creative Commons Attribution-ShareAlike 4.0 International License.
You are free to:
Share — copy and redistribute the material in any medium or format
Adapt — remix, transform, and build upon the material
for any purpose, even commercially.
The licensor cannot revoke these freedoms as long as you follow the license terms.