HUBUNGAN JUMLAH SEKRET DENGAN KEJADIAN VAP (VENTILATOR ASSOCIATED PNEUMONIA) PADA PASIEN DI ICU RSUD DR. M. YUNUS BENGKULU
ERNI BUSTON

Poltekkes Kemenkes Bengkulu

EFRIZON HARIADI

Poltekkes Kemenkes Bengkulu
Keywords:
Sekret, Ventilator Associated Pneumonia
Abstract
Latar belakang: Terbukanya saluran nafas bagian atas karena pemasangan ETT menyebabkan penurunan kemampuan tubuh untuk meyaring dan menghangatkan udara. Ganguan pertahanan silia mukosa saluran nafas karena adanya cidera pada mukosa saat intubasi dilakukan, sehingga menjadi tempat bakteri untuk berkolonisasi pada trakea, keadaan ini akan mengakibatkan peningkatan produksi dan sekresi sekret meningkat. Sekret dalam saluran nafas akan tergenang dan menjadi media untuk pertumuhan bakteri (Agustyn, 2007). Tujuan: mengidentifikasi hubungan jumlah sekret terhadap kejadian Ventilator Associated Pneumonia pada pasien di ICU RSUD Dr. M. Yunus Bengkulu. Metode: Jenis penelitian deskriptif analitik dengan desain yang digunakan adalah cross sectional. Sampel pada penelitian ini berjumlah 93 orang dengan menggunakan tehnik simple random sampling. Analisis data dilakukan dengan univariat dan bivariat dengan uji statistik T-test. Hasil: Uji statistik didapatkan nilai p = 0.00, dapat disimpulkan bahwa ada hubungan signifikan penggunaan ventilator dengan terjadinya VAP. Terdapat nilai OR=9,58 dengan 95% CI: 3,632-25,287, artinya responden yang memiliki banyak sekret beresiko 10 kali terkena VAP. Saran: Diharapkan tim medis dapat melakukan penegndalian infeksi pada pasien yang menggunakan ventilator dan pasien yang di rawat di ICU.
Downloads
Download data is not yet available.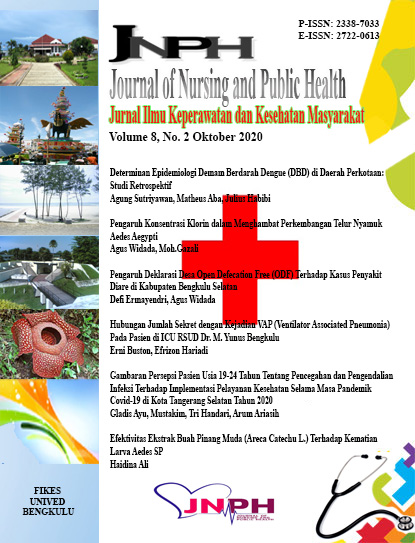 How to Cite
BUSTON, E., & HARIADI, E. (2020). HUBUNGAN JUMLAH SEKRET DENGAN KEJADIAN VAP (VENTILATOR ASSOCIATED PNEUMONIA) PADA PASIEN DI ICU RSUD DR. M. YUNUS BENGKULU. Journal of Nursing and Public Health, 8(2), 22-26. https://doi.org/10.37676/jnph.v8i2.1176
An author who publishes in the Journal of Nursing and Public Health agrees to the following terms:
Author retains the copyright and grants the journal the right of first publication of the work simultaneously licensed under the Creative Commons Attribution-ShareAlike 4.0 License that allows others to share the work with an acknowledgement of the work's authorship and initial publication in this journal
Submission of a manuscript implies that the submitted work has not been published before (except as part of a thesis or report, or abstract); that it is not under consideration for publication elsewhere; that its publication has been approved by all co-authors. If and when the manuscript is accepted for publication, the author(s) still hold the copyright and retain publishing rights without restrictions. For the new invention, authors are suggested to manage its patent before published. The license type is CC-BY-SA 4.0.
Journal of Nursing and Public Health is licensed under a Creative Commons Attribution-ShareAlike 4.0 International License.
You are free to:
Share — copy and redistribute the material in any medium or format
Adapt — remix, transform, and build upon the material
for any purpose, even commercially.
The licensor cannot revoke these freedoms as long as you follow the license terms.