PENGARUH KONSENTRASI KLORIN DALAM MENGHAMBAT PERKEMBANGAN TELUR NYAMUK AEDES AEGYPTI
AGUS WIDADA

POLITEKNIK KESEHATAN KEMENTERIAN KESEHATAN BENGKULU

MOH. GAZALI
Keywords:
klorin, telur, nyamuk Aedes Aegypti
Abstract
Penyakit demam berdarah merupakan masalah kesehatan masyarakat di Indonesia. Pengendalain nyamuk dewasa dan larva belum menunjukkan keberhasilan yang signifikan. Pengendalian nyamuk Aedes aegypti perlu dilakukan dengan cara lain salah satunya adalah menghambat perkembangan telur nyamuk. Klorin sebagai salah satu bahan yang dapat menghambat perkembangan telur. karena terdapat klorin yang mampu mengoksidasi (membakar) telur nyamuk Aedes aegypt idengan merusak protein yang terdapat dalam telur nyamuk Aedes aegypti. Tujuan dari penelitian ini adalah diketahui perbedaan konsentrasi klorin terhadap daya tetas telur nyamuk Aedesaegypti. Jenis penelitian ini berupa penelitiandengan metode Eksperimen. Rancangan Penelitian ini adalah post test with control only design. Analisis yang digunakanadalahuji One Way Anova dan uji Benferonny. Hasil analisis Univariat menunjukkan bahwa kelompok kontrol jumlah telur yang tidak menetas adalah 2% dan pada konsentrasi 40 ppm jumlah telur yang tidak menetas 94%. Hasil uji Anova mennjukkan terdapat perbedaan yang bermakna rata-rata jumlah telur yang tidak menetas pada berbagai macam variasi dosis klorin (p=0,000). Sedangkan dari hasil uji Benferonny menunjukan terdapat perbedaan jumah telur yang tidak menetas pada konsentrasi 10 ppm dan 20 ppm (p=0,000). Diharapkan penelitian ini dapat memberikan informasi bagi masyarakat dengan cara mengamplikasikan konsentrasi 20 ppm untuk menyemprot tempat perindukan nyamuk.
Downloads
Download data is not yet available.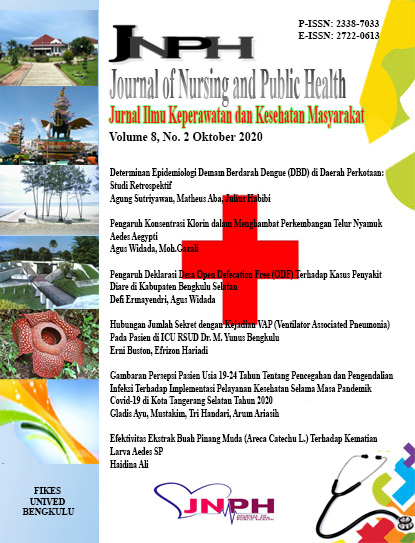 How to Cite
WIDADA, A., & GAZALI, M. (2020). PENGARUH KONSENTRASI KLORIN DALAM MENGHAMBAT PERKEMBANGAN TELUR NYAMUK AEDES AEGYPTI. Journal of Nursing and Public Health, 8(2), 10-15. https://doi.org/10.37676/jnph.v8i2.1174
An author who publishes in the Journal of Nursing and Public Health agrees to the following terms:
Author retains the copyright and grants the journal the right of first publication of the work simultaneously licensed under the Creative Commons Attribution-ShareAlike 4.0 License that allows others to share the work with an acknowledgement of the work's authorship and initial publication in this journal
Submission of a manuscript implies that the submitted work has not been published before (except as part of a thesis or report, or abstract); that it is not under consideration for publication elsewhere; that its publication has been approved by all co-authors. If and when the manuscript is accepted for publication, the author(s) still hold the copyright and retain publishing rights without restrictions. For the new invention, authors are suggested to manage its patent before published. The license type is CC-BY-SA 4.0.
Journal of Nursing and Public Health is licensed under a Creative Commons Attribution-ShareAlike 4.0 International License.
You are free to:
Share — copy and redistribute the material in any medium or format
Adapt — remix, transform, and build upon the material
for any purpose, even commercially.
The licensor cannot revoke these freedoms as long as you follow the license terms.