The Effect Of Capital Expenditure And Local Revenue On Economic Growth In Cities And Regencies In Bengkulu
Tania Hasibuan

Universitas Dehasen Bengkulu

Ahmad Soleh

Universitas Dehasen Bengkulu

Abdul Rahman

Universitas Dehasen Bengkulu
Keywords:
Capital Expenditure, Local Revenue, Economic Growth
Abstract
The main objective of regional development is to create economic growth and equitable development, including inter-regional distribution of income (PAD). Fast economic growth and low income inequality can be achieved, but both cannot be achieved simultaneously. This study aims to determine the effect of Capital Expenditure and Local Revenue on economic growth in cities and regencies in Bengkulu. The samples in this study were 10 local governments at the district/city level in cities and regencies in Bengkulu with a study period from 2015 to 2020. The data collection method used the documentation method. The data analysis used was multiple linear regression, coefficient of determination  and hypothesis testing. The results of the regression test obtained the regression equation Y = 254.213 + 0.097X1 + 0.025X2. Capital expenditure (PAD) has a significant influence on economic growth in cities and regencies in Bengkulu because a significant value of 0.006 is smaller than 0.05. This means that as PAD increases, economic growth will also increase. Local Revenue does not have a significant effect on economic growth in cities and regencies in Bengkulu because the significant value is 0.531, which is less than 0.05. This means that the high or low PAD generated by a region does not really affect economic growth because there is still funding from the center. Based on the results of testing the hypothesis with the F test, the hypothesis made shows that together capital expenditure and regional original income affect economic growth in cities and regencies in Bengkulu. The results of statistical calculations show a significance value of 0.05. The coefficient of determination is 0.162, which means that changes in the independent variables together are able to explain the dependent variable by 16.2%, while the remaining 1% is explained by other factors outside the independent variables used in this research
Downloads
Download data is not yet available.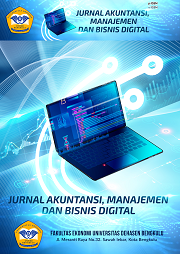 How to Cite
Hasibuan, T., Soleh, A., & Rahman, A. (2023). The Effect Of Capital Expenditure And Local Revenue On Economic Growth In Cities And Regencies In Bengkulu. Jurnal Akuntansi, Manajemen Dan Bisnis Digital, 2(1), 35–40. https://doi.org/10.37676/jambd.v2i1.3593
Copyright (c) 2023 Tania Hasibuan, Ahmad Soleh, Abdul Rahman
This work is licensed under a Creative Commons Attribution-ShareAlike 4.0 International License.