Production and Marketing Process of Radio and Tv . Media Programs
Winda Kustian

Universitas Islam Negeri Sumatera Utara

Khafita Aini

Universitas Islam Negeri Sumatera Utara

Maisarah Maisarah

Universitas Islam Negeri Sumatera Utara

Muridayani Muridayani

Universitas Islam Negeri Sumatera Utara

Syahrul Afriansyah

Universitas Islam Negeri Sumatera Utara
Keywords:
Modern era, Information, Mass media, Production, Marketing
Abstract
It is clear in today's modern society that human beings rely heavily on information. Humans require information that is quick, accurate, and trustworthy. This, of course, has a lot to do interacting with the media, both print and electronic. Television and Radio are one of the media that present information quickly. Television and Radio are still considered to be public-favored information and communication media because they play a significant role in the delivery of balanced and acceptable information in society. People use Television and Radio as information media for education, entertainment, control and social glue. Therefore Television and Radio need proper Program Production and Marketing to promote its broadcasts. Marketing is not only needed by products whose benefits can be directly felt. More than that, marketing is also needed by invisible products whose benefits cannot be felt directly but can be felt later. Program Marketing through television media and consists of a wide range of activities such as advertising, online marketing, events, merchandising, podcasts and funding. To support marketing and production performance, this marketing activity aims to obtain funds or funding used during the pre-production, production and post-production periods. From the series of activities that have been carried out, it can be concluded that online marketing through Television and Radio media is considered very relevant for use today in marketing communications that are integrated with other promotional media.
Downloads
Download data is not yet available.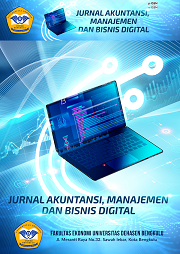 How to Cite
Kustian, W., Aini, K., Maisarah, M., Muridayani, M., & Afriansyah, S. (2022). Production and Marketing Process of Radio and Tv . Media Programs. Jurnal Akuntansi, Manajemen Dan Bisnis Digital, 1(2), 319–326. https://doi.org/10.37676/jambd.v1i2.2593
Copyright (c) 2022 Winda Kustian, Khafita Aini, Maisarah Maisarah, Muridayani Muridayani, Syahrul Afriansyah
This work is licensed under a Creative Commons Attribution-ShareAlike 4.0 International License.