Actuarial Aspects in Health Insurance
Muhammad Risalah Harahap

Prodi Asuransi Syariah, Universitas Islam Negeri Sumatera Utara

Nur Ahmadi Bi Rahmani

Universitas Islam Negeri Sumatera Utara
Keywords:
Actuarial, Health Insurance
Abstract
Insurance is a guarantee or coverage against uncertain events (Sembiring, 1986). There are several types of insurance, namely health insurance, personal accident insurance, education insurance, and others. The type of insurance used in this study is health insurance. Everyone has a risk of developing a disease. If a person is stricken with a disease and is required to receive treatment and treatment in a hospital, it certainly requires a large amount of money and currently hospital costs are increasing. Therefore, preparation is needed to transfer these risks to insurance companies by participating in a health insurance program. This type of research is descriptive with a qualitative approach. Data collection used by using interviews, study documentation and observation. The study in this research is to find out "Actuarial Aspects in Health Insurance". The results show that actuarial analysis in health insurance is an analysis carried out to determine and calculate the amount of premiums withdrawn from participants, the amount of fees that must be paid by the Insurance Agency to health facilities and to measure and manage risks and uncertainties, an expert who is an expert in actuarial analysis is called an actuary.
Downloads
Download data is not yet available.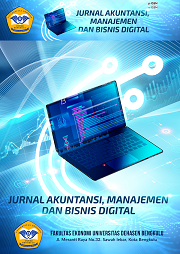 How to Cite
Harahap, M., & Rahmani, N. (2022). Actuarial Aspects in Health Insurance. Jurnal Akuntansi, Manajemen Dan Bisnis Digital, 1(2), 225–230. https://doi.org/10.37676/jambd.v1i2.2430
Copyright (c) 2022 Muhammad Risalah Harahap, Nur Ahmadi Bi Rahmani
This work is licensed under a Creative Commons Attribution-ShareAlike 4.0 International License.